With digitalisation creeping in, even fine art as a form has taken an interesting turn. With invention of drawing pen tablets, artists have gone digital. They have ditched canvas and paints for Digi pads and Digi pen.
If you wonder what can we really do with that stuff? Allow me to spill the beans; you can draw, create, edit, animate, design, play games and practice your calligraphy.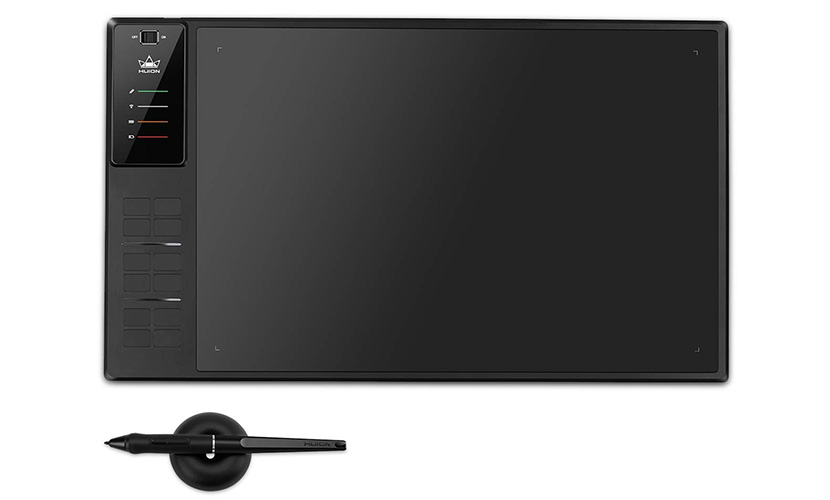 We know it sounds great, and if you are an artist stepping into the world of digital drawing, this is your calling. In addition, if you are a pro, even then this has to be your best buy. The drawing pad works for all kind of artists. With large working area, battery free pad, excellent pen with natural tilting strokes, express keys and smart indicators, this tab will be undeniably loved.
HUION launched WH1409 V2 drawing pen tablet to transform the drawing experience to a much handy way. With drawing pen tablet, we can so much more than we could imagine with a canvas. It is not just an artist thing; you can play games when you need to break your art block.
We all do need a break from anything we do continuously, be it something as interesting as art. Hence, to freshen up your mind and rejuvenate your soul, the drawing pad also supports video games. We know you already love it, just hang it on for a while and have a look at some of its other amazing features.
Midst the swarm of digi pads, HUION brings to you drawing pad tablet that helps you unleash the creativity in you and let it flow. Below are some of the astounding features that you'll definitely love.
Large Work Area
Ready to dive into an immersive world of digital drawing? With 350 x 218mm working area, you get a lot of space to splash your creativity around and discover an artist within you. With large working area you get the ease to explore and draw, animate, or design freely.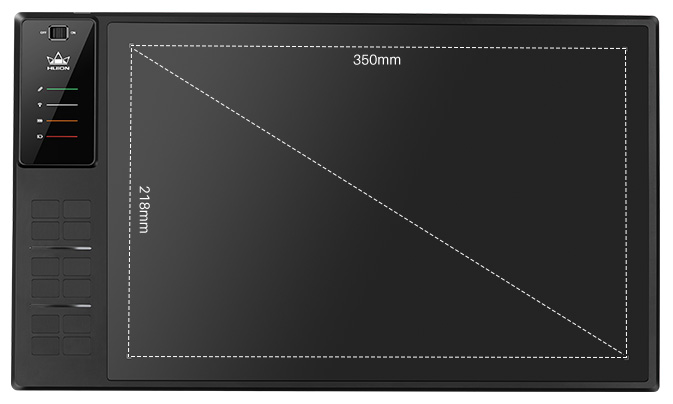 One thing that artists appreciate the most is the flexibility to work and experiment with the creativity possessed. With such large working area, you do not have to zoom in repeatedly and then zoom out. Too much of a task, isn't it? Hence, HUION WH1409 V2 is answer to all our artistic prayers.
Battery Free
Completely hassle free. You get HUION WH1409 V2 is absolutely battery free graphics tablet. No trouble of charging it up, finding a power socket or carry charger wherever you go. You can just charge your laptop and you are good to go. Connect the tab through USB to your laptop and just draw away whatever you feel like.
Smart Indicators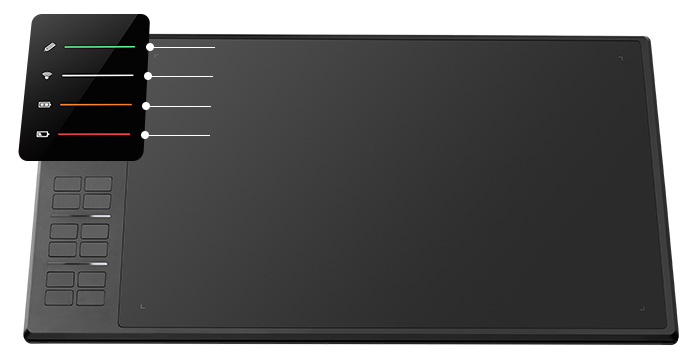 Get smart with smart indicators of this drawing tablet. You now have smart keys at your fingertips. Smart indicators help you to be well aware of the states of WH1409 V2 and be well informed of your activities. Battery status, wireless mode, charging mode, electricity mode, and pen states, you get all this vital information for your free creative movements.  You also get wireless mode with this drawing tab to work freely without hassle of USB cable.
12 express keys
Enhancing the efficiency of your work, the 12 express keys are customizable and at the ease of your hand. You can customise these keys for different functions and they are perfectly placed at the most accessible location, hence, improving your work efficiency and also offering you the luxury of easy working.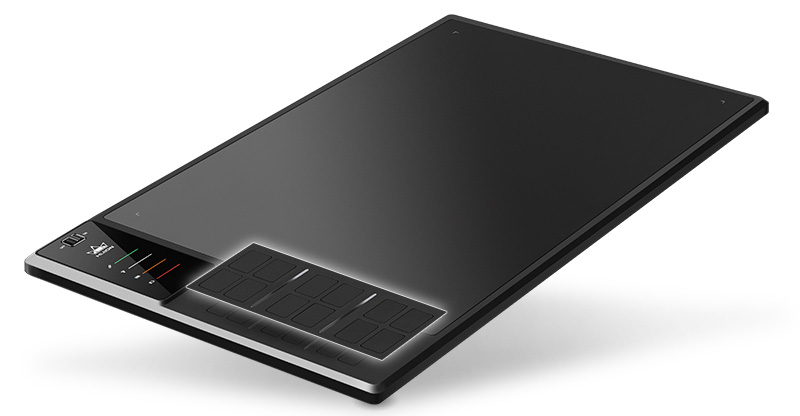 You can now work just as freely as you desire with the help of these express keys and also smart indicators.
Excellent Pen
The pen just adds extra edge of convenience and ease to your drawing experience. PW500 digital pen supports tilt recognition. It can stimulate the tilting effect of strokes and offer guaranteed accuracy with ±60 levels natural tilt. HUION claims to have every stroke standing out. It offers smooth strokes with pressure sensitivity of 8192 levels and report rate of 266 PPS.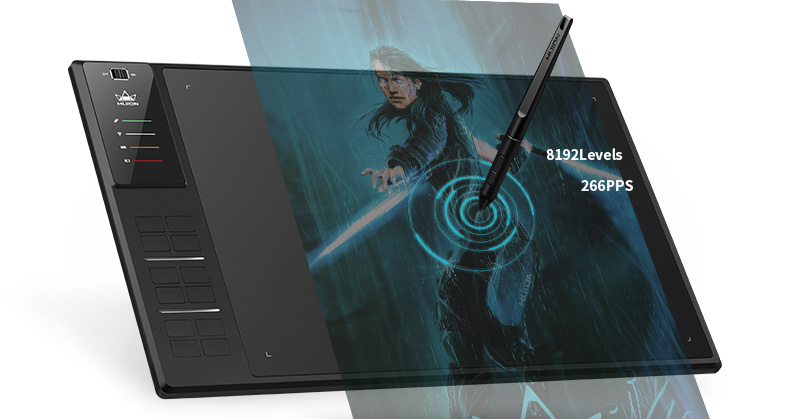 A commendable innovation to infuse vitality into the artwork through high accuracy and controllability of the pen.
Suitable for MacOS/Windows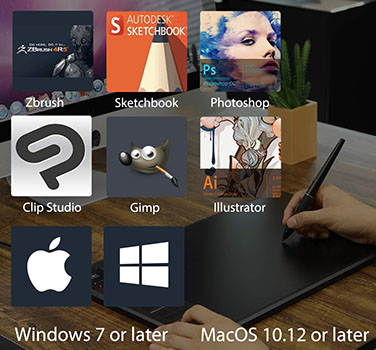 Irrespective of what OS you fan follow, either you are die hard apple fan or a subtle window user, this drawing pad supports both the operating systems, MacOs or Windows. Isn't it great? Hence, you do not have to switch your laptop in order to search for a suitable OS for the same. Just get your hands on this drawing pad and you are on with your creative aspect.
With the artist within you, you can create the virtual word on your pad, animate, design, edit and bring your imagination to your laptop screen.
Compatible with various software
Being an artist is not an easy job. With digitalisation firming its ground and digital art forming its space in the industry, artists (desirably or undesirably) have to shift to digital platform. While there are umpteen number of software available, such as PS, Illustrator, AI, Painter, Krita, CLIP Studio, Sai and many alike.
Now you feel free to play with your creative self and experiment with any software you are comfortable with. We know it sounds like dream come true. It certainly is.
All said and done, we know the all-new HUION WH1409 V2 drawing tablet sounds pretty much awesome. It has some amazing configurations, astounding features and an excellent quality pen for a better use.
Drawing Pads are a bit in trend due to artists trying the new digital trend. Ditching our old canvas and paints, Pen tab has made its way into the cupboards. Now, as I said earlier, there is swarm of these digi pads in the market, so what makes HUION digi pad any different? Well, this is what you have to explore.
We have listed all the features we loved about the product, so get your hands on this drawing tablet in the market, explore your creative side, experiment deeply with your designs, and bring vitality to the canvas.