Create. Activate. Liberate. The new Huion INSPIROY H1060P Drawing Pen tablet is the device to walk with if you are the artist in the lane that has instincts like no one and creates out of intuition. There are a lot of people walking with a creative desire on edge. What they lack is a tool to let it out. And gone are the days of carrying a pen and paper. You guys would instead like to take out your device and create and save it for rest of your days. That's the edge technology gives you. Now, before I become all preachy, let me talk about what this tablet offers!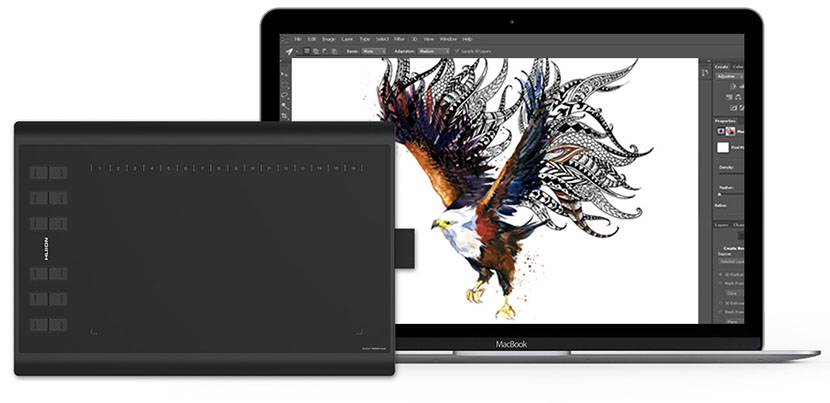 The Huion INSPIROY H1060P Drawing Pen Tablet is specially designed for every kind of artists that wants to create their art digitally. Don't get confused. It's a lot different than a regular tablet that has multi-functions. These pen tablets or digital/graphics tablet have their league of competition. They have features and specs that are designed to give you maximum comfort and precision while designing or drawing your art.
Before throwing in some light on the device, I would highly recommend users of this device to opt to buy the latest driver installation software package from Huion Official website instead of choosing to install the driver with the default installation CD as it is subject to expiry or outdated material.
Display and Design Quality
The Huion INSPIROY H1060P Drawing Pen Tablet has a premium look and feel. It has curved horizontal edges that delivers a striking look giving an impression of it's thoughtful and elegant body design. It is ergonomic, and as soon as you hold the device, you get to feel the premium textured plastic finish this creative pen tablet has. The dimension of this tablet is 360 x 240mm out of which 254 x 158.8mm spans the workspace, allowing you to create your vision.

It has a thick frame of 10mm which adds up to the body weight. It weighs 770g and is cumbersome to be called super portable. But you can snug this tablet nicely into your backpack. The work surface of this device has a smooth finish to prevent its pen from wearing down. The amount of grip you get on the surface is smooth but not too flat to make the whole experience a slippery one. It is the perfect balance of friction and smoothness that translates from pen to tablet to platform. Still, a rough surface should not be opted. Smooth surfaces give you benefits. But again, balance is the key!
(The amount of maintenance to be put for these devices should be consistent. As this is an open device, it is subject to dust all the time and needs to be cleaned)
Press keys
Along the side of this tablet, you will 12 physical express keys on the left (vertical) and 16 soft press keys (horizontal). These keys have tasks that help you to perform shortcuts that amp your illustration process. It is crucial as the time taken by illustration is already a lot than wasting that time on manually performing those actions. The physical express keys are excellent and beautiful to press, and it comes with the comfort of position.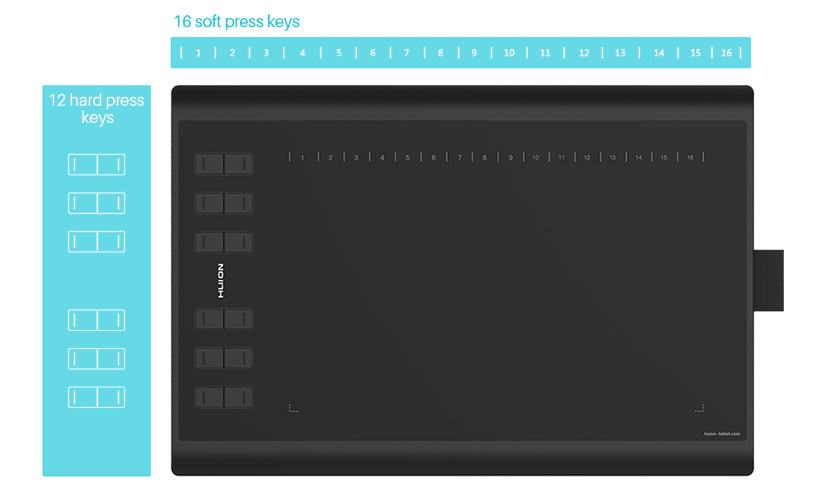 The problem with soft press keys on the above is that these 16 keys do not come with names or indications to them. Also, you these keys can only be pressed by looking down at the screen. You have to keep looking down while you press those keys continually. The workflow with these shortcuts (essentially provided to make your process easy) becomes a bit rigid. The very way to go about pressing those keys is to memorize them. And remembering 16 keys for different shortcuts may seem like an easy job that comes with time, but yet a little stressful to infuse into the whole workflow.
Note: As an illustrator, you don't have to use the soft keys necessarily. You can use the tablet without them.
Compatibility and Software Specifications
It is a cross-platform compatible device that adjoins your platform as you wish. It is compatible with Windows 7 or later and MacOS 10.11 or higher versions. It can be used as an independent device too with more of these tablets evolving with LCD screens to them. While you use this pen tablet with your PC, you get a CD for installation that asks you to install the tablet drivers in the PC. Better than this, you can directly go to Huion website and download the latest versions of those tablets and get the job done. In the software, after installing, you can customize the whole workflow of the device. Right from your express keys, pen buttons, pen pressure curve, to the work area, you can decide them all. You get good headway before starting your whole drawing experience.
On the software end, this tablet has 8192 Levels of pressure tolerance. Next time you press your pen nib on the tablet, you do not have to worry about double click or light tap, as you will find it comfortable to not having to go from lower to higher pen pressure. It has a pen resolution of 5080 LPI which gives you a smooth experience. Do not be confused. The resolution in these devices essentially means the accuracy of where the position of your stylus is. It also has an accuracy of ±0.3mm which is impressive and gives a pen on paper drawing experience.
Battery-free Pen
The hero feature of this tablet, the innovative battery-free pen makes this device stand out. The brand's vision of giving you the artistic freedom not just with portability but even with the battery wins them all! It is super-efficient and has almost no signal interference.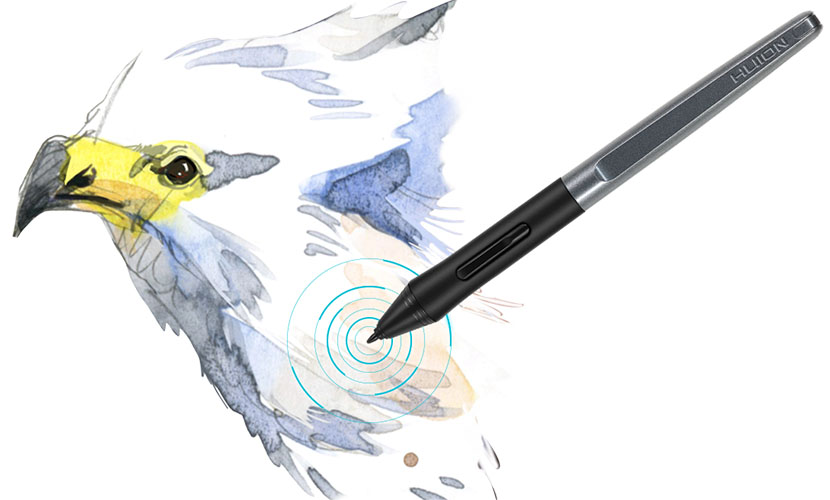 Pros
Battery-free pen
Impressive pressure levels
Pen-on-paper accuracy
Compatible on Windows and MacOS
Cons
Soft press keys
A little heavy for portability
Verdict
The Huion INSPIROY H1060P Drawing Pen Tablet draws a lot of support for your comfort of creating what you want. With digital illustration becoming the thing of tomorrow, these devices show more promise and fluidity in what they do and provide!