The all-new 2nd generation Google Nest Hub comes with lots of healthy features. You can place Nest Hub by your bedside and go to sleep, it will do the remaining for you. You no longer need to bear with wearing a gadget to your sleep to understand your sleeping pattern. Also, the camera-free styling is useful to make the ultimate use of this device in understanding and improving your sleeping habit.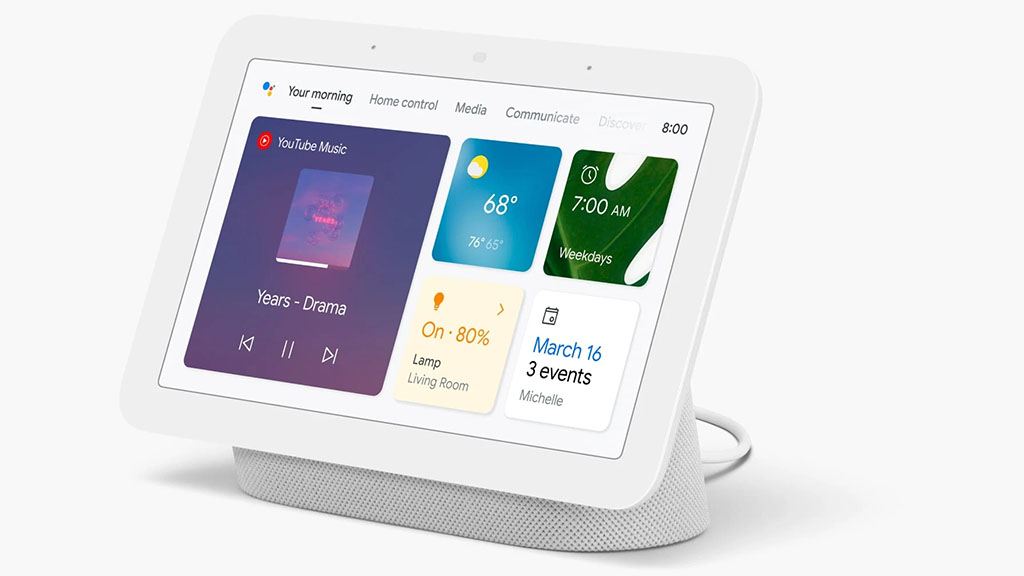 You will be amazed to know about the extremely helpful sleep features of Nest Hub that will help you lead a healthier life by Sleep Sensing. This opt-in feature will help you have a check on how good you sleep and how healthy a day you can spend as a result of having a good sleep at night. Nest Hub helps to analyze the sleeping pattern of the person lying closest to the display.
This is done with the Sleep Sensing that uses Motion Sense to study your movement and breathing while you sleep and that too without the unnerving vigilance of the camera or irritation of any wearable. Sleep Sensing makes use of Nest Hub's built-in microphones and ambient light to detect any disturbances caused due to changes in light and temperature in the room.
Sleep sensing also detects activities coughing and snoring to analyze the depth of sleep that you have been able to have. The advantage that you will have from all these analyses will be extremely beneficial for your health. Nest Hub will help you identify the causes or reasons that are causing distraction of sleep and you can eliminate them to enjoy a sound sleep.
You will receive a detailed sleep summary analyzing your sleep every morning or you can also view the sleep data anytime on Nest Hub. Through the Sleep Sensing mechanism, you can also use Google Fit on Android and iOS gadgets that will also deliver health-related information to you.
Sleep Sensing also helps by providing useful suggestions and make an individualized timetable to help you get a night of better and undisturbed sleep. These suggestions and advice are provided by a special team of sleep scientists and under the guidance of related organizations like the American Academy of Sleep Medicine.
What is more wonderful with Nest Hub, you are the master of deciding what aspects you wish to use and what not to. The control is in your hand. From whether to use Sleep Sensing to whether to disable the microphone, you decide all and you are completely secured.
The speakers of Nest Hub are similar to what was in Nest Audio as it is based on the same technology. Its bass is almost 50% more compared to the original Hub. So, just enjoy fulfilling music in popular music apps and also allow yourself to immerse in the originality of audio that you get while watching your favorite shows and series. By just tapping in front of the display, you can exercise control of pausing and playing content on Nest Hub.
With Nest Hub, you can make Google Assistant do all that's required with ease. There is a dedicated on-device machine learning chip in Nest Hub, much like Nest Audio and Nest Mini. This dedicated chip allows some Assistant features in the device straight from Google's data center. So, in the US Only, the Google Assistant carries out commands faster gradually.
With the new Nest Hub, you can see all the devices that are compatible with it in just one place. With this, managing and controlling the connected appliances will be easier as it will come with a built-in Thread Radio that will enable it to use the connectivity parameter as created by Project Connected Home over IP working group.
Priced at $99.99, the second-generation Nest Hub is available in Sand, Charcoal, Chalk, and Mist colors. You can pre-order it from Google Store in U.S, Canada, France, Germany, U.K, and Australia.