A tablet cum PC is an emerging concept and already applied by a lot of reputed brands, Fusion5 is one of those. T60 11.6-inch Windows 10 Tablet cum PC is launched by Fusion5 as an excellent alternative of PC. You can perform any tasks which you are doing on PC till now on very slim, compact, and user-friendly 11.6-inch tablet PC. This tablet comes loaded with the Windows 10 operating system giving the user an ultimate work experience. Turn Fusion5 T60 11.6-inch tablet into a PC using its docking ability, just attach the additional keyboard and convert this tablet into a PC.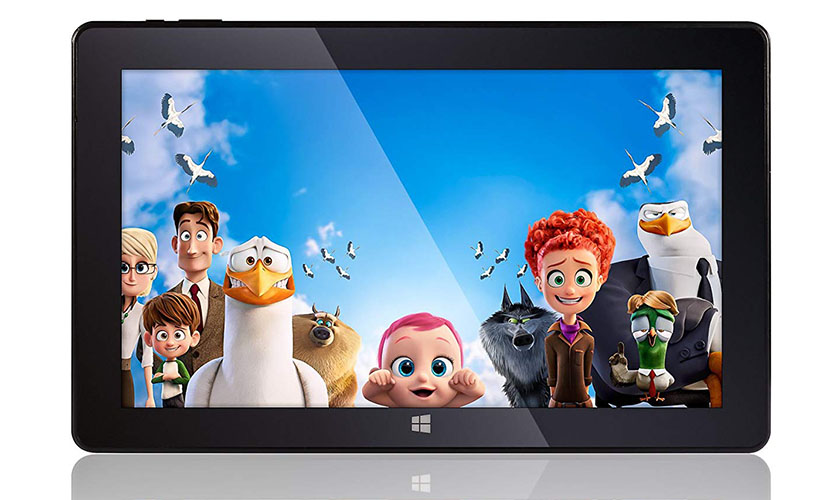 The responsibility of incredible performance has been taken by Intel AtomTM x5 processor and 2 GB DDR3 RAM. You will not experience any delay, lagging, or slowness from this hardware unit. Superb visuals are driven from Intel HD Graphics card on 11.6-inch full HD screen. Unlimited storage is provided in the form of 32 GB Internal storage plus the expandable option of SD Card which can get extended up to 128 GB. This tablet is loaded with dual camera enabling you to make smooth video calls or taking clear photos. Wireless connectivity options, slim, sleek, and lightweight profile, and great multimedia experience are some other factors making this tablet a tough nut to crack for competitors.
Also Read: Fusion5 FWIN232 10-inch Windows 10 Tablet Review
Pleasing Characters
Fusion5 embraces a family of Android tablets which lies in different categories like Standard, Xtra, Premium, Premium+, and Economy. Any user can choose their best option as per the desire, wish, and requirement. This is the first time that tried their hands-on Windows tablet and more importantly on Tablet cum PC.
Fusion5 T60 11.6-inch receives aesthetic characters giving you the feeling of a premium device. This device holds a very slim, sleek, shiny, and lightweight profile. The dimensions of 13.4 x 11.8 x 2-inches and 1.52 pounds of weight allows you to easily carry or move this device anywhere. On the front, 11.6-inch screen surrounded by the thick bezels all along the border. The web camera is placed at the top bezel in the center as we normally find in most of the tablets. Windows logo at the bottom bezel identifies this tablet as a Microsoft Windows-powered device.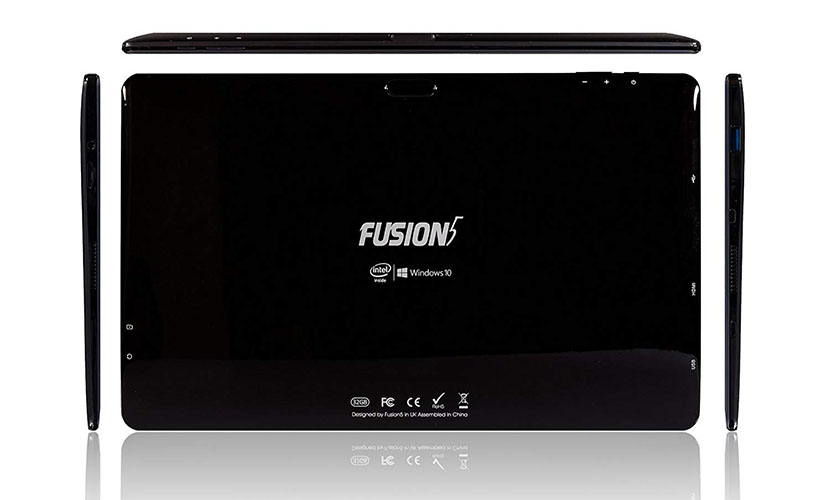 The rear end is covered by shiny curved angles hard plastic material with various options provided on the top and side profiles. The rear camera is placed as usual. Volume rockers and the power button is provided on the top bar, the right end is covered with audio jack, whereas on the left you will find USB and HDMI ports. Fusion5 logo is embarked at the center combined with Intel and Windows logo ensuring that this tablet is powered by Intel chipset and Windows 10 operating system. On all ends slanting curves has been designed smartly to appear this tablet as a slim and sleek device.
At the bottom, you will notice docking keyboard slot which is provided for attaching a related keyboard and use this tablet as a normal laptop. This comes to be a huge sigh of relief for the users who always remain on the task. You have multiple options to work with and use this device to the fullest. Use it as a tablet and in case you get tired or bored with tablet attach a keyboard and accomplish your tasks with the help of a keyboard.
Performance
Incredible performance is derived from upgraded Intel AtomTM x5-Z8350 Quad-Core processor in combination with 2 GB DDR3 RAM. Smooth performance is guaranteed through this hardware unit. You can easily accomplish your normal day-to-day tasks, studying, multitasking, or normal gaming. The 7th Gen Intel HD graphics chipset floats amazing visuals on 11.6-inch full HD IPS screen. The resolution of 1920 x 1080 pixels brings life to the pictures and delivers crisp, enriched, balanced, and vibrant images for the users. The Fusion5 keyboard comes with smooth keys and attached trackpad. The keyboard and trackpad look bit small but is very comfortable to handle and very accurate.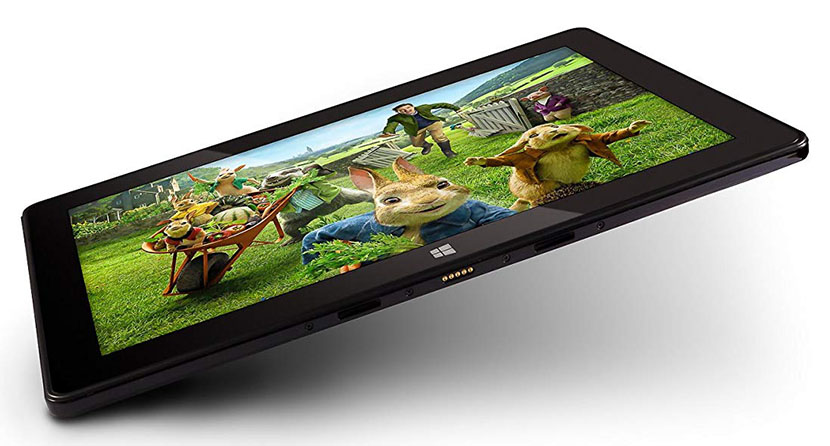 On the storage front, this device is equipped with 32 GB internal memory and SD Card option which can get extended up to 128 GB giving you plenty of space to store any kind of data for you. Dual Camera is a nice addition as front camera is indulged with 2 MP of camera and same resolution you will get on the rear end camera as well. The front camera is adequate for clicking selfies or making video calls, but the rear camera of 2 MP is not up to the mark. You can scan documents or click photos from that camera but if you are expecting vivid clicks then this device may not suitable for you and you must look out for some other options.
Connectivity Options
Making connections to other devices is possible using an array of connectivity options provided in this tablet. The one full USB 3.0, one Micro USB, HDMI, and G-sensor can be used for connecting various devices to the tablet. The internet can only be managed wirelessly using 802.11 b/g/n or Bluetooth 4.0 options.
Final Thoughts
Fusion5 T60 11.6-inch Windows 10 Tablet PC is little dynamite wraps in compact packaging. The size of 11.6 is perfect in terms of storage, usability, or portability. Performance powered by upgraded Intel Atom processor and 2 GB DDR3 RAM is excellent. Whether you want to use this tablet for studying purpose, normal business tasks, or for multitasking you never left behind on power and performance.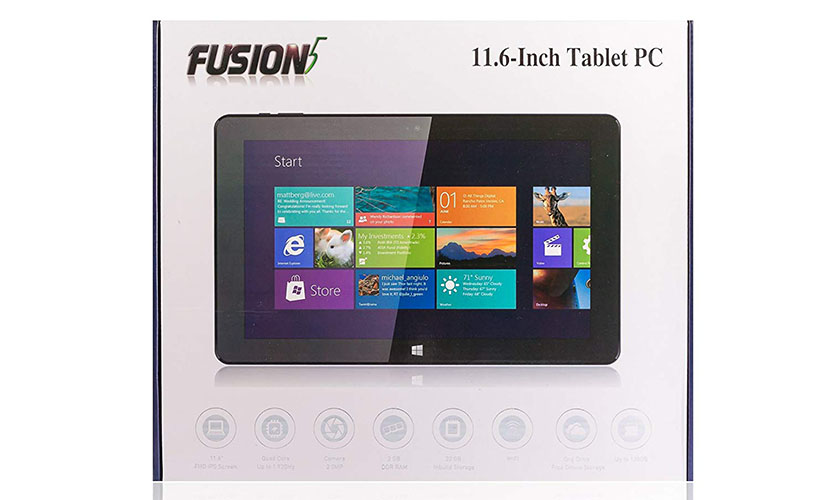 Detachable keyboard and docking zone enables you to use this tablet in dual ways, either you can use it as a standalone tablet or just attach the keyboard and use it as a normal PC. Both options are comfortable and easy to use. A lot of connectivity options allows multitasking with ease. Massive storage, stylish build, and dual camera are some other options which make this device a thought-provoking entity in its league.