Fujitsu has been a front runner in the world of enterprise PCs and tablets. This firm has always given hit tablets in the market, since its inception. But recently, they have announced that soon they will launch enterprise tablet ARROWS Tab Q509/VB and a windows tablet that will focus on education of children, namely ARROWS Tab Q509/VE in Japan. The company is all set to hit the dynamic market in early February with these tremendous tablets. However, according to reports, they released a few core specifications of this Q series tablet to let people decide prior what they can achieve with this tablet.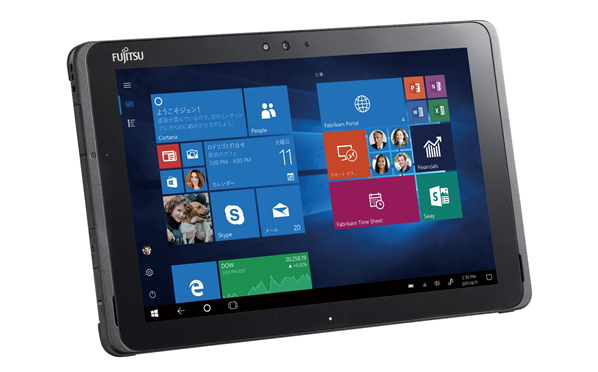 Company has released that ARROWS Tab Q509/VB is solid, water and dust resistant that will enable teenagers and employees to live a stress-free rather than protecting their tablets from spills and slip-outs. The body would be rough tough of both the tablets without any doubt. Further, everyone is concerned about CPU and battery of the tablet as these two prominent factors play major role in any tablet. Keeping in mind the concern of people, Fujitsu has showed their core innovation in this area of the tablet.
Both the tablet features Intel Core processors working at the speed of 1.9 times more as compared to other series of the Fujitsu tablets, giving you high performance whilst maintaining the other functionality of the tablet as well that involves impeccable durability, efficiency, and a lot more. This powerful CPU in the ARROWS Tab Q series gives you an idea how efficient, quick and reliable would be the tablet.
On the other hand, battery has been improved immensely because this time Fujitsu had stepped into the platform of fast charging. In the ARROWS Q series, you'll be getting unimaginable battery durability along with fast charging that has capability to charge your tablet up to 80% in just one hour.  You can tap on new things that come your way without worrying about the battery of your tablet. Previous models by Fujitsu usually required two hours to reach that battery level.
Furthermore, the educational-based tablet ARROWS Tab Q509/VE has been introduced with a smart and highly responsive stylus, enabling employee to work more in less time. The hexagonal shape of the pen makes it more attractive and sleek that you can replace it within the body of the tablet, giving you the feeling of using a natural pen.
Market, worldwide is eagerly waiting for this launch as the tablets seems to be mid-ranged and the tablet will run on the latest operating system Windows updated as of 2018. We can expect that Fujitsu is going to be recognized as one the top brands in the gadget world with its groundbreaking tablets and enterprise PC models. It will soon lead the competitive market and the results will be fruitful launch with regards to ARROWS Tab Q509/VE and Q509/VB.
And the countdown has begun in Japan for the launch of ARROWS Tab Q509/VE and VB.