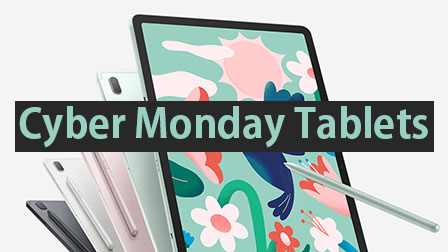 There is not a living soul in the US who is not excited about Black Friday and Cyber Monday tablet deals. Every year people throng the retail outlets and online stores to buy at the lowest prices of the year.
Manufacturers, retailers and sellers also give away generous discounts to get maximum benefit from the holiday sales season.
Traditionally, the Black Friday was dedicated towards promotion of sales in retail stores across US and in the following years with the emergence of eCommerce and a whole new shopping platform, Cyber Monday was introduced as an extension to the Black Friday to encourage people to buy and sell online.
2022 was a technologically great year more so for the tablet industry. A lot of new tablet devices were launched and quite a few existing models were upgraded with better processors and storage to match up to present day demands.
In addition, people are increasingly accepting present day tablets as their primary device owing to some brilliant engineering and innovation by companies like Apple, Microsoft, Samsung to name a few.
Sleek new detachable keyboards and graphic pens are adding to the relevance of the tablet market and we are slowly coming to a time where the powerful tablet PCs will mostly replace the old laptop market. The second striking thing about the tablet is the options that it gives to the users.
You could choose to just use it as a touch screen device for lighter works, reading and replying to emails, watching videos and browsing the internet. But, if you need to do some extensive typing and need a physical keyboard, you can easily connect the detachable keyboard and it turns from a light tablet to a performance laptop!
Manufacturers have also been smart in identifying different categories and addressing their needs with their devices. This made the tablet a wide open market with devices starting from as low as less than $100 to all the way up to $1800 and more.
The best deals on tablets may not be the cheapest one. Many bloggers and statisticians help people to make the right purchase decisions. Statistically, most tablet users today use it for Netflix, YouTube and occasional word processing. Last year over 170 million tablets were sold worldwide. A major chunk of it came from the sale days in US.
Best Cyber Monday Tablet Deals 2022
In 2022, the Black Friday is on 25th November and Cyber Monday on the following Monday on 28th November. With only few weeks remaining for the sale days, the excitement is slowly starting to build and people are waiting to know the best deals and discounts on tablet devices that they can get on the sale days.
If you are planning to buy a tablet this sale days, brace up as we bring you 5 of the most popular and best seller tablet brands that you should watch for this sale season.
1. Samsung Cyber Monday Tablet Deals 2022
If you like Android experience in a tablet, you can't go beyond Samsung. Samsung is known to provide the best and advanced displays world-wide. With the familiar ease of use of an Android device, Samsung tablets are on top of most people's wish list for the upcoming Black Friday and Cyber Monday.
This sale season, you can get your hands on the top of the line 10.5-inch Galaxy Tab S6 that comes with a 128GB and a 256GB storage variant and is powered by the Snapdragon 855 processor. The tab comes with a 6GB RAM and is definitely a beast when it comes to multi-tasking and performance.
If you are looking at a less expensive and powerful tablet, take a look at the 10.1-inch Galaxy Tab A. It is perfect for people who are looking for a tablet for tasks like word processing, working on spreadsheets, clicking and editing photos using apps and for browsing the web.
It works on an Octa-Core processor and has 2GB RAM. You will also get 32GB storage as standard. Clearly, Samsung has something to offer for both high-end users and people looking for budget devices.
2. Apple iPad Cyber Monday Deals 2022
3. Amazon Fire Tablet Cyber Monday Deals 2022
Amazon has a slew of tablet devices aimed at different users. The way Amazon has entered and penetrated into the tablet market in the recent years is indeed commendable and shows how well the company has understood the pulse of the customers.
You can choose from the all-new edition of the Amazon Fire 7 tablet. It is an entry-level tablet with 8GB base storage and 16GB storage option which is expandable up to 512GB. If the screen looks too small for your entertainment and browsing needs, you can go for the 10-inch Amazon Fire HD 10.
It has a faster processor, type-C charging with 32GB standard storage. The 2019 model has better antennas, 2.0GHz Octa-Core processor with 2GB of RAM. It is of course a known fact that the Fire tablets are heavily focused on leveraging the Amazon ecosystem, with Amazon Prime, Alexa and more.
In addition, you can also do a decent amount of video watching, web surfing, word processing, etc. You can also buy a Fire HD 8 that is great for most video, game, app and social needs.
4. Microsoft Surface Cyber Monday Deals 2022
Microsoft has surprisingly cracked the tablet code. One common feature that you find across all surface tablets is a great design and thoughtfully designed accessories that can easily enable a user to convert the tablet into a full size laptop experience with detachable keyboards and the surface pen.
Microsoft's recent launches – Surface Pro 7 and Surface Pro X are definitely two of the best tablet devices with keyboard. The Surface Pro 7 features the same Surface design from its predecessor with the 12.3-inch PixelSense display and its 3:2 aspect ratio at 2736 x 1824 resolution for a sharp 267 ppi. The Surface Pro X, on the other hand is an all-new design. It is roughly the same size as the Pro 7, but lot thinner and lot more powerful.
Many people are waiting for the Black Friday and Cyber Monday offers to get their hands on one of these cool devices from Microsoft.
The End Note
The Black Friday and Cyber Monday are the biggest retail and online sales days of United States and several other countries. They kick-start the holiday shopping season. Cyber Monday – the following Monday after Black Friday is to promote and extend online sale.
However, today it is considered more of an extension to the Black Friday. If you have waited this long to buy that tablet you have been eyeing for a while now, kudos. You will definitely get a deal that you could get on no other days.
For instance, you can save up to 33% on Microsoft Surface Pro 8. Needless to say, Black Friday and Cyber Monday are the most awaited days of the year where you can spend smartly and save quite a lot of dollars.
Every minute of wait and patience that you have showed has finally paid off and paid off with big discounts and offers. It is finally the perfect way to enter the holidays with a smile and a fat saving. Happy Shopping!