2-in-1 tablets are surely an in thing when we talk about tablets in this era. Gone are the days when people settled for either a tab or a laptop. Now, they require both in a single packing. And, tech firms are on to fulfill the demands of the market.
While there are many 2-in-1 tablets rolling out in the market with exclusive features, CHUWI is back in the game with its to-be-launched Ubook. It is said to be a high-performance lightweight tablet PC. With commendable storage capacity, you are sure to try this new 2-in-1 tab and you might just be more than willing to buy.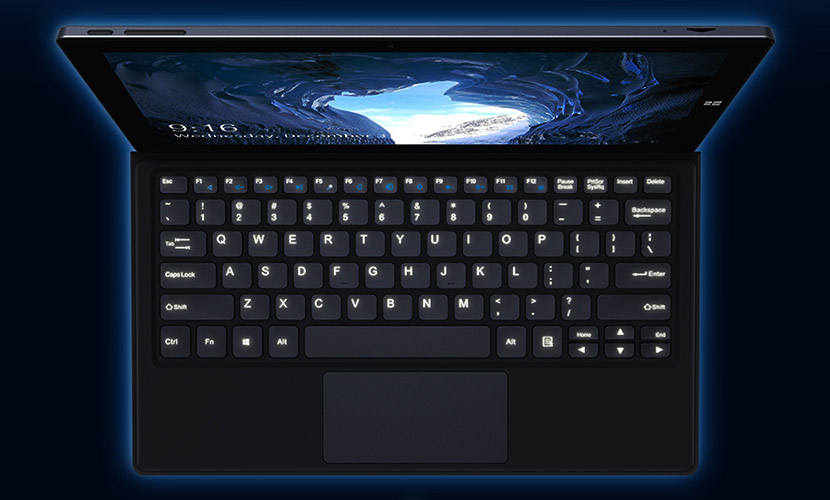 Apart from the storage capacity, CHUWI is promising a 2-in-1 tablet with almost all amazing features and a comparatively lower price. Sounds good? Yes, it does! To name a few plus points about CHUWI's Ubook, it has a passively cooled Core m3 CPU, has dual USB Type-A ports, 8GB RAM and we have already mentioned about the storage capacity of 1TB.
| | CHUWI UBook Specs |
| --- | --- |
| Processor | Intel Core M3-6Y30 Dual-Core |
| Graphics | Intel HD 515 |
| Display | 11.6-inch (1920 x 1080) FHD IPS |
| RAM | 8GB LPDDR3 |
| Storage | Up to 1TB SSD |
| Weight | 760g |
| Dimensions | 11.43" x 7.06" x 0.35" |
| Battery | 30.4Whr (Up to 9.5hrs) |
| Operating System | Windows 10 Home |
| Price | Starting from $349 | CHUWI UBook on Indiegogo |
To give you more insights about the same, we have curated brief elucidations about Ubook's features that might help you decide to skip or wait for the to-be-launched CHUWI Ubook.
Display
The tab has 11.6 inch of screen which enables user to have a wide screen view with full lamination technology. With this, you get a full vivid visual and colour experience. You also get a CHUWI's 1024 pressure level stylus that helps you write or design more efficiently and accurately.
In-Budget
Now, this is where CHUWI has an edge over other detachable tablets. Since, there are many tech rivals out there, it is best to keep the process reasonable. Hence, CHUWI Ubook is said to be priced at $400, which is indeed pocket friendly and worth the specifications offered.
Storage Capacity
This is what I've been going on since the start. Ubook is embedded with8GB LPDDR3 RAM and 128 GB storage, expandable to 1TB. The storage capacity of CHUWI's latest flagship model is what keeps it at par with other tabs apart from the price being comparatively low. Where you can store ample amount of data with 1TB storage, 8GB RAM helps you have a fast processor which further helps you in multi-tasking.
Lightweight
The to-be-launched 2-in-1 tablet is 9mm thick and weighs less than 2 pounds which makes it easier to carry and you can tag it along wherever you travel. Be it a vacation or a business meeting, you can now take your tab along and have your work done. Also, having a unique U-shaped kickstand on back side helps you the ease of presenting the screen to your friends or team mates.
Battery Life
Enduring battery life is what Ubook offers. Straight 9.5 hour long battery life helps you to keep going. The technology used in this 2-in-1 tablet is high density Li-polymer battery which indeed keeps your tab charged for long hours.
The tab seems intriguing, isn't it? We bet it does! The Chinese firm is all set to launch its new detachable tablet, Ubook, post its Kickstarter page starts to run in full swing. With all the features counted above, this new tablet has been decently priced and should work well for browsing, word processing, streaming online videos or carry your everyday tasks. With a high-tech processor used, the tab should be quite compatible with heavy tasks. Hence, that's all for CHUWI's Ubook and we are surely waiting for it to launch.