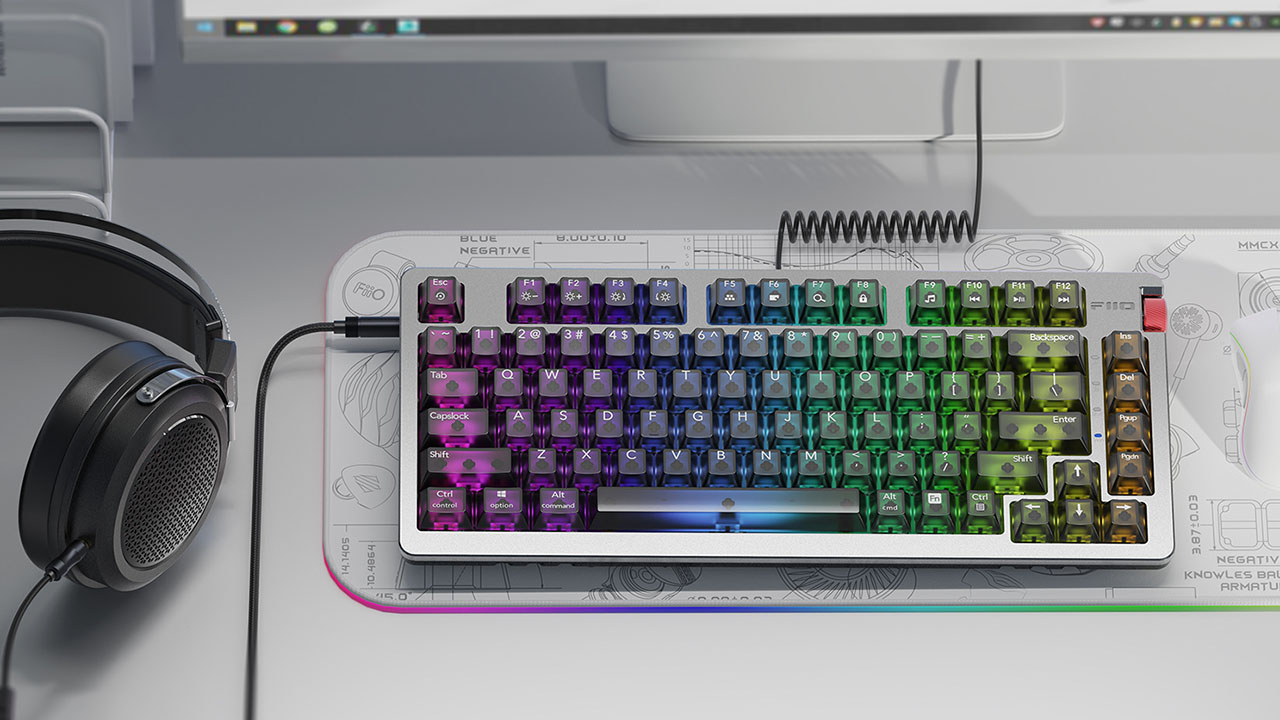 FiiO is a well-known brand in the gadget industry. The company is mostly recognized for its superb selection of HiFi audio equipment. FiiO has been designing various HiFi audio devices for several years, including Hi-Res Audio Players, portable USB DAC/AMPs, in-ear monitors, and much more. They just released the Q15 high-power portable DAC/AMP.
Today, they are back with a new product. One thing about them is that their catalog is constantly expanding. And now they have added a new revolutionary product to their portfolio. It introduces the FiiO KB3, a gadget combining 2 of your favorite pastimes. It is a very special launch from FiiO.
The FiiO KB3 is a premium mechanical keyboard with a built-in HiFi Audio DAC/AMP architecture with an attached gasket. You get an excellent keyboard in terms of construction quality and typing feel, together with a HiFi audio configuration that supports 3.5mm & 4.4mm headphone output. FiiO KB3 offers a singular experience that is exceptionally remarkable in its own right.
High Performance And Efficient
The KB3 is outfitted with full-color RGB lighting from FiiO. The keyboard is equipped with several pre-programmed dynamic lighting effects. It's around the users to experiment with various lighting effects. The transparent keycaps allow the vivid and brilliant RGB lighting to be seen clearly.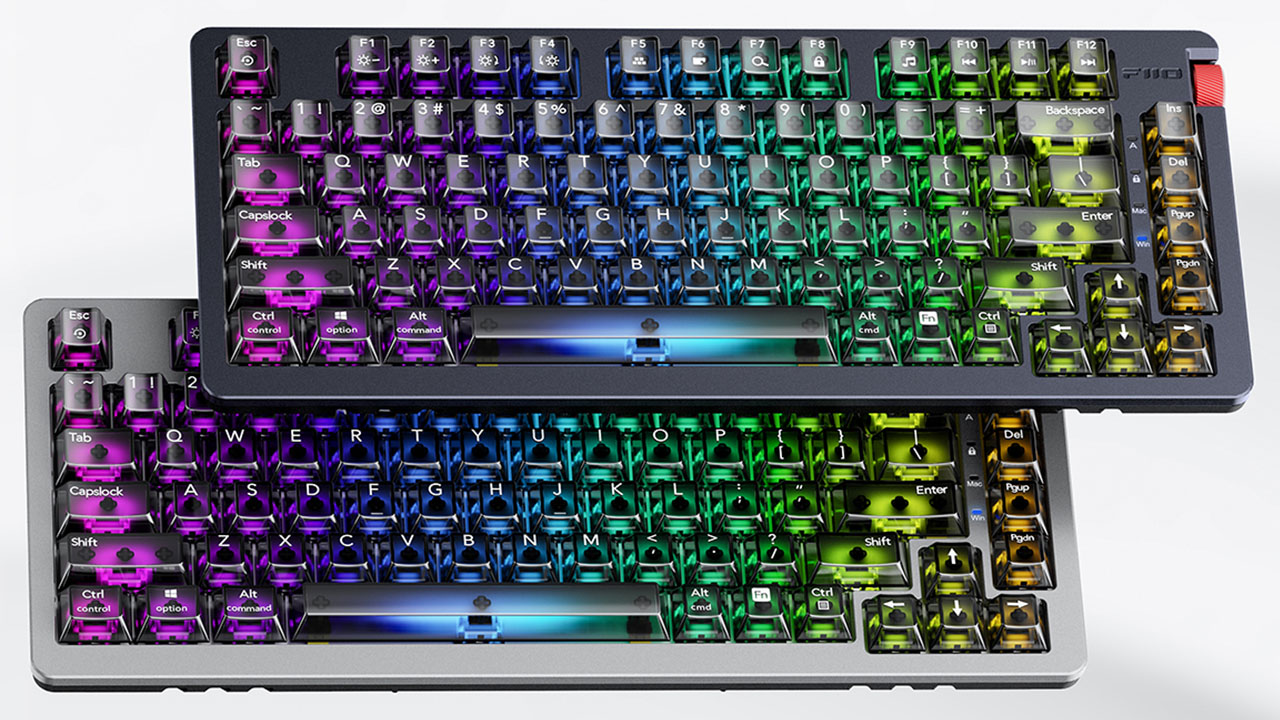 The keyboard has a high-end FiiO finish, transparent keycaps & a premium aluminum-magnesium alloy chassis that gives consumers a beautifully textured, sturdy, and well-built experience.
Devices running Mac OS and Windows operating systems are both supported. The keycaps of the FiiO KB3 are clear, and the keyboard layout is 75%. Its 81-key layout has a step-less volume control. With its carefully designed gasket-based structural design, the keyboard guarantees pleasant typing.
Yellow mechanical Gateron G Pro 3.0 switches of the highest caliber are also included with the FiiO KB3. As needed, serious enthusiasts can also change the switches. You can pair 3-pin and 5-pin switches with these hot-swappable sockets.
Other features
Now for the unique feature of the FiiO KB3: the keyboard has a high-definition audio chipset. The FiiO KB3 functions as a high-end HiFi DAC/AMP. With two CS43131 32-bit DAC chips, it contains a high-end dual-DAC chipset.
Powerful output of up to 550mW per channel is promised by the two-channel amp component that supports this pure DAC setup. Decoding of 32-bit/384kHz PCM streams is supported by FiiO KB3.
It can be easily connected to various IEms and headphones with its 3.5mm and 4.4mm headphone output ports. You may easily communicate with your pals while gaming using the in-line microphone supported by this 3.5mm headphone jack.
There are three variations of the FiiO KB3 mechanical keyboard. These three options for the HiFi keyboard: a fully completed keyboard with a HiFi wired audio DAC/AMP section, a HiFi keyboard kit that can be customized with switches and keycaps of your choosing, and a wireless variation that lacks HiFi audio capabilities but still has all the other functions.
The FiiO KB3 wireless version features a large 4000mAh battery that can operate for up to 500 hours when the backlight is off. With the unique FiiO KB3, you can enjoy high-performance typing and audio performance in a space-saving keyboard.
It has top-notch audio technology, a comprehensive USB DAC/AMP, and a top-notch gasket-mounted construction for pleasant typing feedback. The FiiO KB3 mechanical keyboard prices range from $139.99 for the wireless model to $159.99 for the wired HiFi model!