Talking about the Android tablet market, Acer is certainly not new in this field. They have steadily shown a good growth and are certainly become a reputable brand in providing compact-budget devices. Well, Acer made a lot of attempts making tablets with the Iconia label, but according to me, those were literally an unsuccessful attempt. This time it has again come with Acer Iconia One 7, which looks a little better when compared to the rest.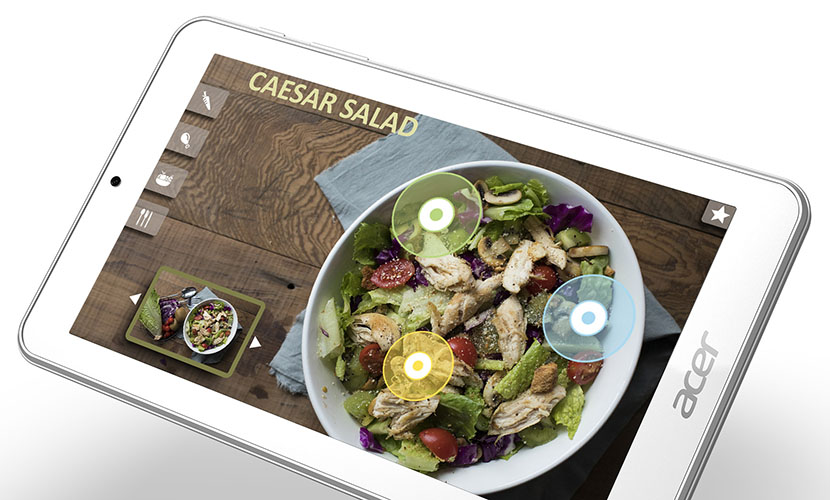 Acer Iconia One 7 is operating with the Android 7.0 Nougat and is exclusively catching up with the performance with the help of a Quad-core processor. You will certainly be feeling a bit better with its first impression. You can certainly grab this 7 inch model with the screen resolution of 1024 x 600 starting at a mere $79. But the question is, does it actually lives up to the expectations? With much better in the same range, this model is going to get tough competition for sure.
Portable
You will certainly not find any type of difficulty when your thinking to carry this Iconia table with you for a trip. In fact, you will be getting the experience of Real HD media which will certainly keep you engaged with ease. You will be getting complete hold of media files with this exceptionally configured Acer Iconia One 7.
Fast and Appealing
Well, MediaTek Cortex A35 MT8167B processor Quad-Core 1.30 GHz will certainly keep the device running at good speed, exclusively giving you great performance. With 3780 mAh battery power you will be getting around 6 hours of uninterrupted time with your games and movies while being on the move. The screen resolution, I feel could have been better, but its bright color and IPS technology allows you to have a great time.
Transfer Files With Ease
There is Micro USB support for you in this tablet, allowing you to connect with a number of other devices. You can easily transfer files from one device to another and also get connected with external devices like keyboard, mouse, and others. This tablet also features Bluetooth 4.0 and Wireless LAN Standard of IEEE 802.11b/g/n which gives you also great opportunity to transfer files with ease.
Camera
With Acer Iconia One 7, you will a front camera and rear camera, with which you will be able to capture a lot of images. I believe this could have been better as rear camera supports 2 megapixels and front camera 0.3 megapixels.
Design
If you are someone who likes to be entertained while on the move, then this tablet is just perfectly built for you. It comes with the compact package to help you get the most out of media applications and keep yourself entertained. The bigger phablet display is certainly quite intriguing with clear display. You will also not be disappointed with the response time of the system and the enhanced battery life will certainly add a cup of joy to your 7-inch package.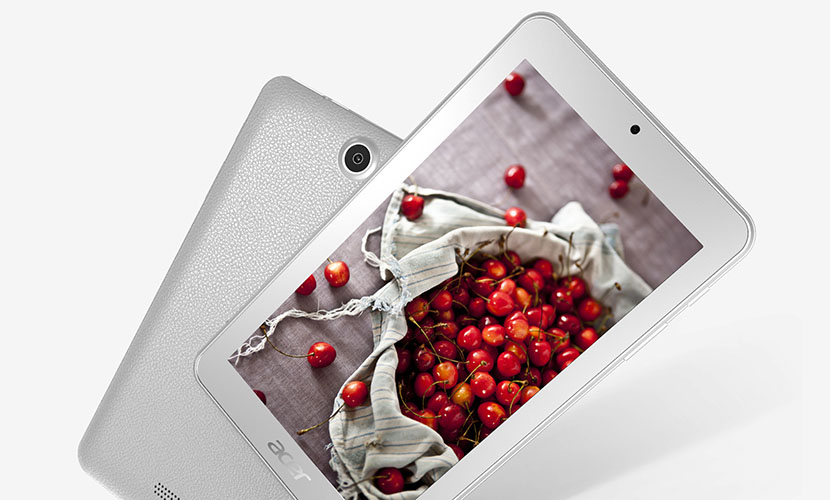 Quad core CPU
With Acer Iconia One 7 you get the powerful performance booster in the form of MediaTek Cortex A35 MT816 processor Quad-Core 1.30 GHz which not only help you perform multitasking with ease but also help you play games, watch movies without any disruption. With Quad Core CPU, you will not feel a single moment dull.
IPS
You will have a great viewing experience as you the colors remain completely intact wherever you view from. You will certainly not feel the strain in your eyes while playing games or watching movies.
Enhanced Media Applications
This tablet literally is just tailor-made for fun-loving persons as it comes with excellent media facilities. EZ Utilities comes pre-installed in the device which gives you Android enhancements. This allows making changes to the fonts and magnifications on the move with just a single touch. In fact, if you a child in your home, this tablet also has Kids Center applications which will keep them amused and are perfectly designed to make them learn new things.
Supports Range of Applications
With Iconia One 7, you will also get a lot of applications which allows you to do a lot more things and enhance your experience. There are a number of applications which comes pre-installed in it and the tablet also supports Google play store, which exclusively gives you access to millions of applications which can be installed and used without any sort of trouble.
Well, with the anti-fingerprint technology, your Acer Iconia One 7 will be easier to clean as it becomes a lot more difficult to smudge the display screen of the 7-inch tablet. I would certainly rate this thumbs up.
This amenity in Acer Iconia One 7 gives you clear and enhanced screen which exclusively gives you a great chance to enjoy the content you want to on the move, even in the sunlight with ease.
Storage and RAM
You will be getting a good amount of storage facility of 16GB with Iconia One 7 with standard memory RAM of 1GB. But there is no problem if you even want more space than the given one. You will be assisted with Micro SD card slots which give you the opportunity to expand your memory up to 128GB and store lots of movies, games, and other applications without having any sort of trouble.
Verdict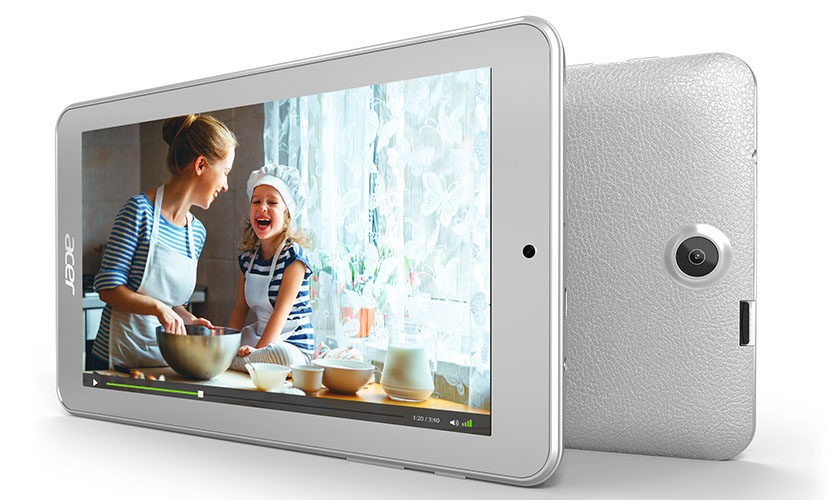 With strong processing and blunt camera, this tablet comes with a lot of pros and cons. But there is a number of reason which makes you purchase this tablet weighing 9.52 oz. Yes, you will get a number of better choices at the same range so, it becomes quite a competition to get this model for your needs. Acer is widely recognized for providing cheerful and economical devices. So, if you are looking for a cheap tablet then only I can recommend you otherwise there are many other better options available.