Wecool 10-inch 3G Tablet is indeed a very cool and adorable looking phablet to entice you at a very low budget.  From clear screen to impactful presence, this phablet is certainly very entertaining to watch. The resolution of 1280 x 800 will help you enjoy your favorite game and movie at its premium best and with the Android 6.0 phablet, you will also get a number of applications to use with ease. This budget tablet will certainly impress with its outer attributes but what lies inner shows is it worthwhile to purchase the device or not. There is a number of questions which needs to be clear and is this dual sim tablet good enough to purchase at this price range. Let's take a look.
Build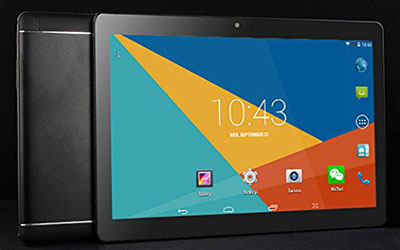 The body of this 10 inch Android 6.0 Marshmallow tablet is quite appealing and the best part is that it's quite slim to carry with ease. You will have no problem while being on the move and the classy appearance is certainly there to show off. The attributes do not end here; you will also be getting the support of a number of applications which will keep you hooked to this device. The big display is certainly very much amusing to watch movies or play games. I would recommend the build of this tablet is good enough to carry at this range and certainly worth an investment for sure.
Memory
The 16GB internal memory is here to fulfill all your storage needs. Yes, you can download your favorite movie or game without any second thought of it and if the memory is still not happy to convince you, the expandable slot of SD card is there to delight you with even more. So, you can get all the application you would like to from Facebook to youtube to skype without any sort of difficulties. The only problem is 1GB RAM which stops from using more than one application at a time but with Quad-core processor you will get your performance enhancer to relish all the stuff you have in your tablet.
Responsive and Appealing

Wecool 10-inch 3G Unlocked Tablet if exclusively featured with MTK Quad-core processor which ensures that all your gaming requirement is fulfilled without any hassles. It ensures that the task is performed quickly and is very responsive also. You can easily launch and install different kinds of applications with ease and also there will be no problem while watching long movies. Yes, when it comes to RAM, its disappointing with 1GB and I believe it could have better when compared with other devices at this range. The combination of the configuration will not allow you to run the applications simultaneously. No multitasking! But when it comes to displaying screen it is furnished with 10.1 inch High Definition IPS Display which allows relishing your favorite games and movies from different angles with ease. So, Overall I would rate it good enough with perfect appeal and speed to be purchased at this budget except for RAM. Let's move on with other attributes!
Battery
The battery power of 6000 mAh is there boost your lifespan around 5-6 hours a day. So, while on the move you can use this 10-inch tablet as per your convenience and that too without even have to think about recharging. You can easily watch all your favorite stuff while traveling or click pictures as much as you want, without having to worry about the battery and its charge.
Easy to Carry
When it is about the tablet, the questions are raised, is it convenient to carry or not? With Wecool 10-inch 3G Unlocked Tablet, there will be no problem any at all. You will be able to take it on the trip with ease and use it for different purposes from clicking photographs to listening to music or playing games. The design of the tablet is beautifully crafted and is perfect well-configured with the display resolution which fits in well with every pocket while being on the move.
Camera
The 10-inch tablet will not entice you with the camera. Though it has 2 MP rear to help you get good pictures while traveling camera it will leave you expecting for more. This phablet is also configured with 0.3 MP front camera which also could have been better. You can take a number of selfies and also enjoy video calling with ease. The quality and configuration of the camera could have been better but good to go at this budget.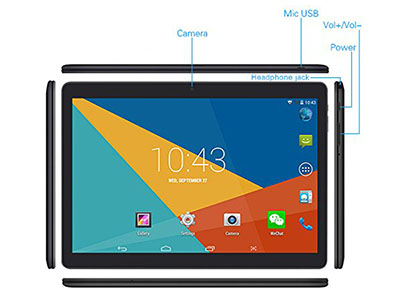 Connectivity
When it comes to connectivity, I would say there will be no problems at all to transfer files from one location to another while using Wecool 10-inch 3G Unlocked Tablet. You will be getting a support USB which you can get it connected it with another device and transfer the files with ease. With USB technology you will also get complete support of Bluetooth 4.0 technology which also allows you to get it connected with Bluetooth devices like speakers or headphones or laptops to listen to music or play games. And you will also have the amenity of Wireless LAN in this 10-inch tablet to give you fast network and transfer files with ease.
Other Options
You will get much more reliable networks with this 10-inch phablet as it is configured with Wi-Fi networks to help you with fast service. It is also infused with a GPS system to help you with live tracking while being on the move. You can also use two sims as it supports Dual sim functionality. It supports G-sensor and you can also expand your memory the SD card slot it has at its back.
Verdict
This 1.8 pounds device is quite a good option for the one looking to experience the use of table at a very low range. Except for the 1GB RAM, everything sounds good to go within the range and it can also become a great option for gifts. So, according to me, it's perfectly good to have one at this range!