Android is capturing the market in quite rapid and significant way. Today you can see a lot of devices that are running successfully on the Android operating system. Topelotek Meteor T10D 10-inch tablet is also one of the devices which run on Android and boasts superb hardware unit. You can easily perform any day-to-day tasks, multitasking, small business utilities, enjoy videos, web-surfing, online web series, normal games, and much more with Topelotek Meteor T10D. The Wide 10-inch screen delivers ecstatic images and captures every angle of HD videos.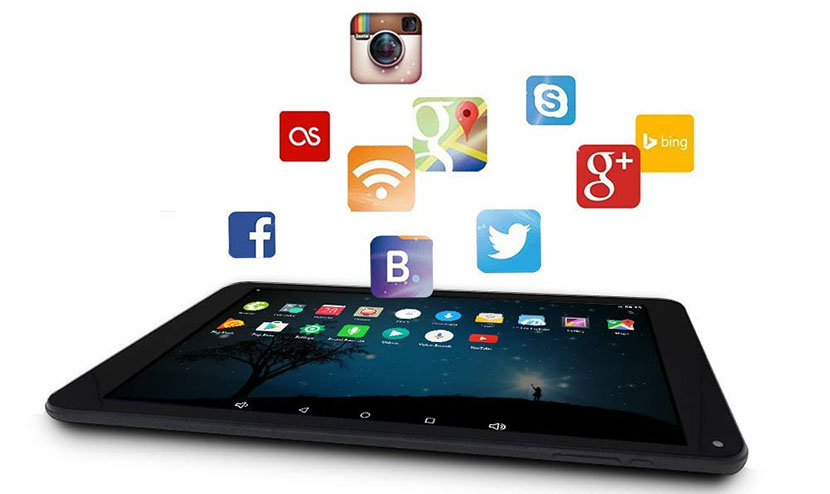 Dual cameras allow you to capture your favorite moments or video conferencing on the road. An array of connectivity options and slim, sleek design adds important elements. Android 6.0 provides a smooth platform and host of free applications for efficient productivity. Amazing battery-life and reasonable pricing augment some more positive points to the device.
Design
This design of the device primarily consists of simple, sleek curves, rounded angles, and whole plastic build quality to wrap up the tablet. Holding in the hands or carrying this device to anywhere is quite easy, all thanks to 10.2 x 6.1 x 0.3-inches dimensions and 2.07 pounds of weight of Topelotek Meteor T10D. Just slip this device into your medium sized bag or purse and enjoy the tablet functionality whenever required.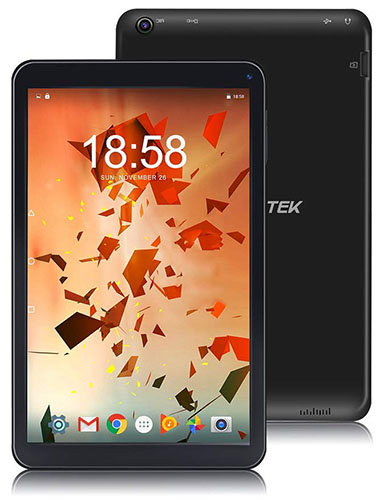 The front screen in covered by 10.1-inch screen surrounded by two-sided thick bezels and other two-sided with normal ones. The silver lining on edges looks brilliant and accompaniments shiny characters to the screen. The upper bezel holds front facing camera which is useful in making video conferencing calls or taking group selfies. The back of the device gets slanting edges on all sides. This benefits in a dual way, one giving the device very elegant look and feel, and second easy to hold the device for longer duration without any issues.
On top of the back, there is a rear camera to support you while clicking images on the move. The USB port, Microphone, and HDMI slot are also available on the top bar for connecting various devices to the tablet. The power button and volume rockers are provided on the right-hand side, whereas headphone jack and Micro SD Card slot are attached on the left-hand side of the device. The sound bars are present at the bottom for superior entertainment and music. Overall, you can't see quite extravagant features but very functioning and practical design suitable for extracting efficient performance.
Screen
As the name suggests, Topelotek Meteor T10D is fortified with massive 10.1-inch full HD display screen. Enjoy your favorite movies, videos, games, or online content on this huge screen to the fullest. The display screen is loaded with 800 x 1280 pixels resolution, IPS technology, up to 178-degree wide viewing angles, and a 5-point capacitive touch panel. Where IPS technology helps you to attain crisp visual even in broad daylight, 178-degree wide viewing angle derive enchanted images to the screen.
Hardware Specifications

System's hardware needs to be durable and power-packed for the efficient and smooth performance of the device. Topelotek Meteor T10D is powered by a decent hardware unit for adequate power and performance for the users.
The MediaTek 8163 Quad-Core 1.3 GHz processor combined with 2 GB DDR RAM to conquer satisfactory results. You can easily perform functions like web-surfing, watching videos, accomplish routine tasks, or whatever you want to do with any normal tablet. You can store an unlimited number of files, data, videos, apps, and utilities on 16 GB internal storage and up to 32 GB using Micro SD card. Visuals have been floated through 10.1-inch full HD IPS 5-point capacitive touch screen display panel. The combo of front and the rear camera allows you to perform any camera-related functions with ease. Wired and wireless network support makes it easy to connect this device to any other device. Android 6.0 Marshmallow edition backed up by Google provides free-flowing operating system and tons of free apps or utilities to work with. The slim, sleek and elegant profile is easy to carry. The battery life of 5-6 hours is decent enough to perform your basic functions, productivity tasks, enjoy web-surfing, or videos.
Camera
The camera was added as an accessory in electronic gadgets, but it took a primary role in quick time. Nowadays, if the device needs to be popular, it requires good cameras to exceed. Topelotek Meteor T10D holds the dual camera to perform a wide variety of camera usage for the users. The front camera of 0.3 MP can be used for clicking group selfies or making Skype or video conferencing calls. The rear camera of 2 MP is very useful while clicking your memorable or favorite moments on the go.
Connectivity
Multi-player gaming or networking can only be possible through a wide variety of connectivity options. This tablet holds both wired and wireless options for connecting a lot of external devices. Wired connections can be established through Micro USB and HDMI slots, whereas 802.11 b/g/n WiFi and Bluetooth 4.0 support connect any wireless devices to the tablet. Both wired and wireless options enable users to perform a wide variety of functions proficiently.
Conclusion
Topelotek Meteor T10D 10-inch tablet boasts with superb hardware, big screen and clean design for performing efficient functioning and smooth processing. Rounded slanting edges makes the design more convenient to hold, adequate hardware generates swift performance, a big 10.1-inch screen displays crisp text and vibrant images, Android 6.0 provides a platform and a lot of freebies, and wired or wireless connectivity options remains very useful.
Whole plastic build quality and mediocre ranged cameras may discourage you a bit, but you hardly see a lot of high-end features on any reasonably priced device. So, if you are a little bit tight on budget and require a superb device in this range, then Topelotek Meteor T10D 10-inch tablet is a perfect device for you.