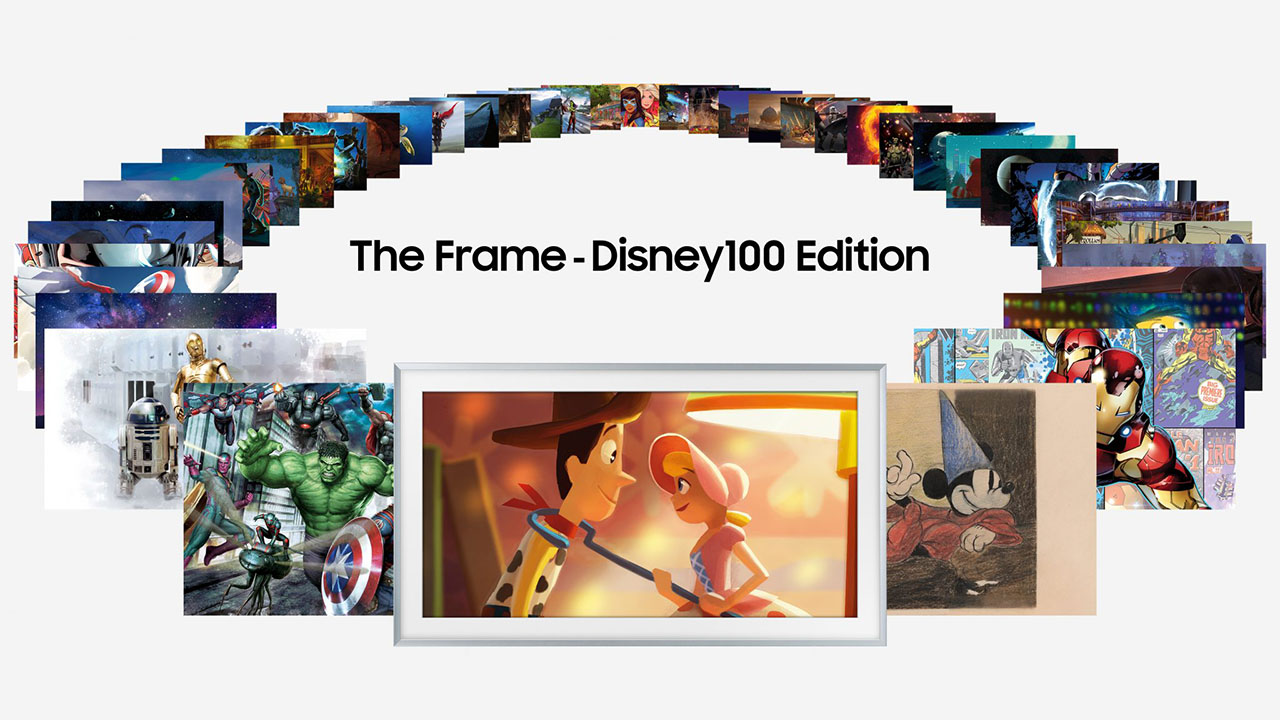 If we talk about the best TV brands in the world, Samsung will definitely be in the top three on everyone's list. They make some of the best TVs in the market and some special ones too. One of those special ones is The Frame.
Samsung started The Frame series back in 2017, and over time, it has expanded and evolved in different screen sizes. Well, now we have another one: The Frame-Disney100 Edition.
Why, you might ask? Well, apparently, Disney is celebrating its 100-year anniversary, and this is Samsung's special way to say thanks.
Now, let's know a little more about the Samsung The Frame-Disney100 Edition.
A Little History of 'The Frame'
The Frame is a fascinating name for a TV, right? Well, this is just a regular smart 4K UHD TV when you are using it. The real magic happens when the TV is not in use. This TV comes with customizable bezels or frames that users can select as per their home decor. When not in use, they can put digital artwork or images on display that look as if you have a photo frame in your home.
This way, users can showcase beautiful art through this TV when they are not using it. Because of the unique design and concept, this TV has many positive reviews.
The Frame-Disney100 Edition
As mentioned earlier, The Frame-Disney100 Edition is a tribute from Samsung to Disney for completing 100 years. This collaboration is good as it adds more Disney artwork to the TV that users can showcase.
An Artistic Marvel
"The Frame-Disney100 Edition" is a special edition. Also, since it is a premium TV, users also get the luxury element. As soon as you turn on the TV, there is an immersive Samsung x Disney100 logo to welcome you. Then there are the iconic bezels in Disney100's signature color—platinum silver metal. These bezels are thoughtfully paired with a special Disney edition remote inspired by one of Disney's most iconic characters: Mickey Mouse.
Get the Best Disney Art
Apart from a normal 4K UHD TV, The Frame is best known for its display of artwork. Since this one is a limited-time Disney edition, users will get the treasure trove of Disney art. This TV comes preloaded with 100 pieces of dedicated Disney artwork, all readily accessible on the Samsung Art Store.
The artwork in this collection is a Disney fan's dream come true. It has content from Walt Disney Animation Studios, Pixar Animation Studios, Marvel, Lucasfilm, and National Geographic.
When you are not watching content on it, you can just display the artwork and relive the magic of beloved Disney characters and stories, from classics like "The Lion King" and "The Little Mermaid" to more recent favorites like "Frozen" and "Star Wars."
While the Disney collection is the star of "The Frame-Disney100 Edition," the TV has even more to offer. Users can access an extensive library of art collections from internationally recognized museums such as the Louvre and Tate, as well as works by great artists such as Monet and Van Gogh, through the Samsung Art Store.
Pricing and Availability
"The Frame-Disney100 Edition" is now available for purchase, but it's important to note that it's a limited edition offering. You can secure your own piece of Disney magic by visiting Samsung.com/us/Disney or BestBuy.com. There are three screen sizes: 55,65, and 75-inch and the pricing starts at USD 1,699.
For more information on "The Frame-Disney100 Edition" and to explore additional features and offerings, please visit Samsung's official website.