Some Windows users never feel comfortable with Android-powered devices and they always remain in search of a device which offers decent performance and the functionality of Windows to support their tasks. RCA Cambio Windows 10 tablet is one of these kinds of device. This tablet receives 2-in-1 Tablet cum laptop design, responsive hardware, and Windows 10 operating system to offer different usability and ultimate comfort for the users. Use this device as a standalone tablet or a mini laptop by using a detachable keyboard you will get smooth performance in both modes.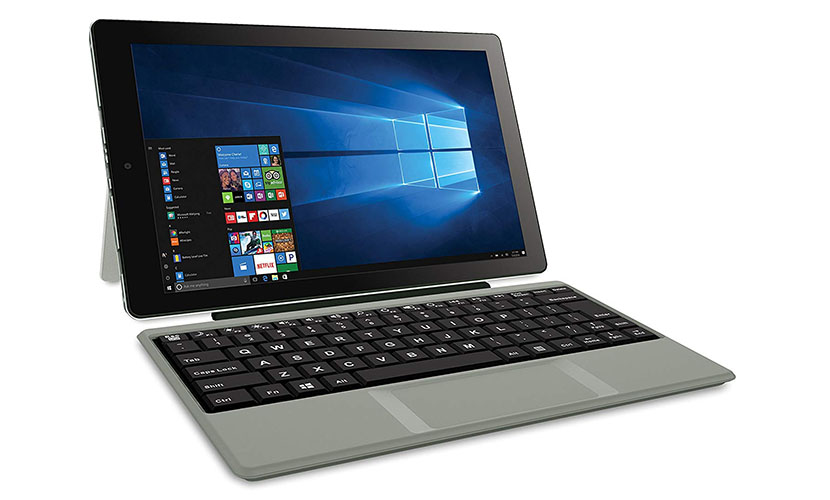 Intel Atom Z8350 Quad-Core 1.44 GHz processor paired up with 2 GB RAM drives exceptional handling, switching between the apps, download, web-surfing, and normal games with superb ease. The 10.1-inch IPS touch screen display ensures true colors, vivid images, and lag-free graphics. Internal storage of 32 GB eMMC let you store your important documents and files to the tablet. The front and rear camera enable you to capture memorable moments and various other camera related functions. Several ports and wireless options allow you to connect this device to other devices. The keyboard with numeric pad and responsive trackpad makes it easy to work for long hours. Overall, a brilliant machine to perform your routine tasks and enjoy entertainment.
Design
RCA is best known for producing budget-centric devices incorporating superb hardware and nice clean design. RCA Cambio is another entity in a huge lineup of affordable devices. This 2-in-1 tablet can be used differently as per the required condition and usability. Attach the keyboard and enjoy the benefits of a normal small laptop and detach it get the functioning and portability of a standalone tablet. Both modes are extremely easy to use and quite smooth to handle.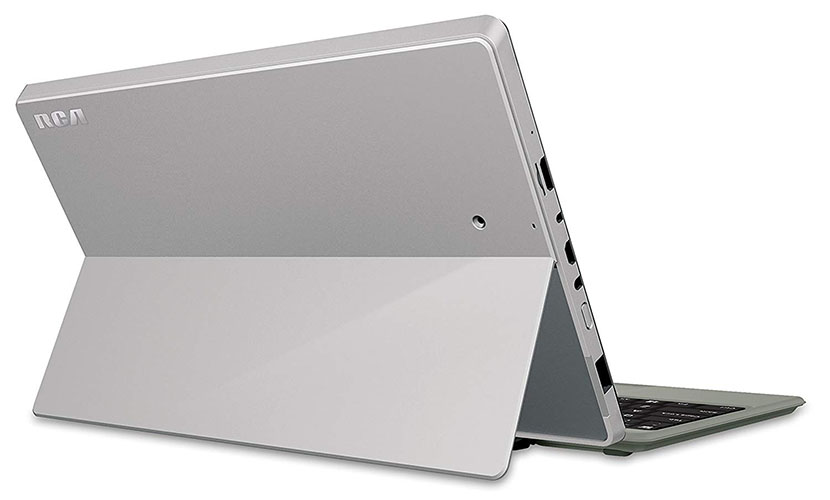 The plastic finish on the top, back, and keyboard chassis looks bit flimsy and bulky. The docking mechanism with holes on the tablet and connecting string on the keyboard chassis is strong. On the back, there is an adjustable kickstand enable the user to view the screen from different angles easily. This tablet comes in four available color options Silver, Black, Purple, and Blue. Each color option is available on the keyboard chassis only, there is no change on the tablet end. If you ask personally, Silver looks to be a fantastic option for me as it matches with the tablet color and looks very elegant and professional.
The detachable keyboard chassis is very slim and sleek giving new dimensions to the overall look and feel. This laptop measures 11 x 7 x 1-inches and weighs 2.5 pounds makes it easy to carry this device with or without keyboard extremely easy. The power button, charger slot, USB, HDMI, audio jack, and Micro USB ports are provided on the left-hand side. Speaker bars are available on the right-side bar. Front screen is loaded with 10.1-inch touchscreen surrounded with three-sided normal and one side with quite thick bezels. The front web camera is placed on the thick bezel and rear camera at the left center of the back. Decent design but bulky nature may discourage you a bit.
Display
Large 10.1-inch touchscreen brings every visual or graphics to the screen. This display comes with IPS technology bringing a crisp and clear picture inside the room or office and outdoor as well. The resolution of 1280 x 800 pixels makes the images more real, fascinating, and vivid. The text display is bright and color saturation ratio is also balanced.

Hardware
RCA Cambio holds Intel Atom Z8350 processor and 2 GB RAM for extracting adequate power and performance to perform business-related or productivity tasks efficiently. The pre-installed version of MS-Office let you explore through the office apps and accomplish MS-Office related tasks on the move. This 2-in-1 tablet comes with the average battery life of approx. 6-7 hours making it difficult to attain full performance while staying away from charger too long.
Cameras and OS
A combo of front and rear cameras complete the camera profile for this tablet. The front camera receives 0.3 MP resolution which is almost obsolete nowadays. This camera is not quite fit for taking selfies or photos, but you can make video calls with your friends, family member, and business colleagues. The rear camera gets 2.0 MP resolution, again very mediocre in terms of resolution. You can use the rear camera for clicking photos or scanning documents in broad daylight but in dim light, it is not that much effective. Windows 10 operating system powers up the system and enables apps to run smoothly. MS-Office allows you to work with office apps.
Connectivity and Storage
On the connectivity end, this device is loaded with both wired and wireless options. For making wired connections, you can use USB 3.0, Micro USB, and HDMI slots whereas wireless connections can be managed through 802.11 WiFi router and Bluetooth option.
For storage, there is a dual option of internal memory and Micro SD card is attached to this tablet. Primary storage is covered by 32 GB internal memory to store all your important documents, files, data, videos and apps. And in case you get cramped up for a free room, use Micro SD card option expandable up to 128 GB as an additional storage option.
Conclusion
RCA Cambio Windows 10 2-in-1 tablet is nice to have device as you can perform a lot of activities with this device. If you can ignore its bulky or flimsy look, mediocre camera, and battery life then this is an excellent device for you. You will get the features like unique 2-in-1 design, kickstand for adjustable viewing angles, decent processor, adequate 2 GB RAM, USB 3.0 and HDMI slots, wireless connectivity, and Windows 10 operating system to perform your routine tasks and enjoy entertainment. Apart from this, the affordable price range gives you the pleasure of saving some money as well.