Tablets can be used in a multi-dimensional way, you can use it for daily routine tasks, enjoying videos, play normal gaming, or multi-tasking. NuVision Solo Signature Edition FHD tablet is one of the same sorts of device. This tablet receives Windows 10 platform so familiar UI and switching between is quite easy.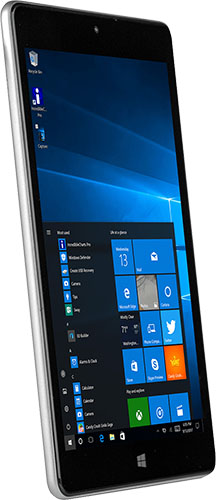 Slim, sleek, and lightweight profile give a durable and premium look and feel for the device.
Brilliant hardware, exceptional display, massive storage unit, unlimited connectivity port options, a combo of front and rear camera, and a host of attractive features are some of the highlights of NuVision Solo Signature Edition tablet. This device may hold a premium or high-end segment device features, but comes in highly affordable range, hence not putting much load on your pocket as well.
Design
NuVision is not that much familiar name in a smartphone or tablet industry, but they did a wonderful job designing Solo Signature Edition tablet. This tablet is launched in mid-range or reasonable pricing section so you may not expect high-end or premium segment designing in this device. But after looking at the design, you can't rate it a low rating design at all.
Slim, sleek, and elegant build quality combines with aluminum unibody welcomes you all. This device measures only 0.3 x 8.3 x 4-inches and weighs just 1 pound. Rounded angles, premium look and feel, and smooth finish capture your attention once for sure. The front screen is loaded with 8-inch full HD screen surrounded by two-sided narrow bezels on the sideways and two-sided thick bezels on the top and bottom.
Top bezel is incorporated with the front camera and Windows icon at the bottom represents this tablet as a Windows powered device. The back panel holds the rear camera and NuVison, Intel, and Windows branding. Micro USB and audio slots are available at the top bar, whereas speaker bars are present at the bottom. Volume rockers and the power button is placed on the right-hand side and Micro SD Card storage option is provided on the left-hand side. This tablet comes in three available color options Silver, Blue, and Pink so you have a wide variety of color options to choose from.
Display
The display is the lifeline of any smartphone or tablet and NuVision Solo Signature edition tablet is no different in this regards. This device boasts with 8-inch full HD 10-point multi-touch capacitive screen to perform any kind of functions for you. The multi-touch touchscreen panel is very responsive and fits superbly on this device. This display panel comes with full HD support, 1920 x 1200 pixels resolution, and IPS touchscreen panel. Where IPS support brings stunning visuals even in broad daylight, narrow bezels deliver superb picture quality for the users. There is no stuttering, no lagging, and no slowness reported means excellent performance all the way.
Hardware Performance
NuVision Solo Signature edition tablet is loaded with adequate hardware to perform extremely well. If any device performs smoothly it adds more value to the device. This device is installed with Intel Atom X5-Z8300 1.44 GHz Quad-Core processor and 2 GB RAM. Using Intel Burst technology, this processor can be overclocked up to 1.84 GHz easily. So, smooth performance in web-surfing, day-to-day tasks, multi-tasking, videos, and games is assured by this hardware unit.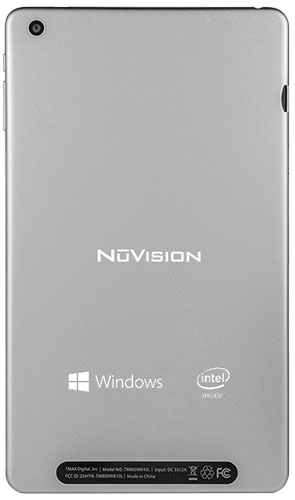 The 8-inch full HD touch screen display panel floats every visual to the screen. Windows 10 Home edition provides a platform for other applications to work with. Microsoft UI, working with the apps, and switching between the apps make every task enjoyable and comfortable. On the storage front, 32 GB of internal memory is provided to store every type of data for you. The storage is enough to store your important data, but in case you still feel short on space or cramp up for free space you can utilize Micro SD Card option giving another up to 128 GB of storage for you. Wired and wireless connectivity options ensure that you can't miss out on any device. The dual camera enables every user to perform camera-related functions with ease.
Camera
This tablet is equipped with the combo of front and rear camera. Both cameras can be used for different type of usage as per the requirements. The front camera can be used for group selfies or making video calls with your near and dear ones. The rear camera captures your favorite or memorable moments and can also be used for scanning documents sort of tasks as well.
Connectivity Ports
NuVision Solo Signature edition tablet holds both wired and wireless connectivity options for a wide variety of usage and unlimited network connectivity. Wired connections can be managed through Micro USB and HDMI port options. The USB port can be used in dual ways, whereas HDMI port allows external TV or monitor connectivity. The 802.11 a/b/g/n WiFi router in combination with Bluetooth enables users to connect wireless devices to the device.
Battery
Battery life becomes an integral part of any successful portable device. NuVision Solo Signature edition tablet holds a good amount of battery life for accomplishing various tasks on the road. The battery of this device claims to back up the system up to 5-6 hours, which may not be that much bigger in the era of a whole day or two days battery life, but decent enough to perform your functions.
Conclusion
NuVision Solo Signature edition tablet seems to be an ideal device for the users who don't want to spend much on performing basic functionalities. Intel power, a combo of front and rear camera, superb 8-inch full HD display, Windows 10 home edition support, unlimited connectivity ports, decent battery life wrap up in durable aluminum finish chassis looks good on the eyes and performs efficiently as well.
Above all, affordable pricing works as an add-on for this device.