Lenovo introduces Tab E8 as its alternative to wide spreading android market. Aggressive pricing combines with superb hardware, responsive touchscreen, and elegant design brings cheer for the users. Durable on the outset and fire within is perfect and ideal combination featured in Lenovo Tab E8. On top of that, the latest Android operating system makes your productivity tasks quite easy to perform and function.
Price: $99.99 (Available now in Walmart stores)
Availability
Lenovo Tab E8 looks to be a compact and complete device to own. This device is already in the market and you can get this device from Walmart stores.
Specifications
Lenovo Tab E8 receives superlative hardware to perceive speed, power, and performance. Routine tasks, studying, reading, normal gaming, and enriched multimedia experience gets a new dimension with Tab E8. The MediaTek MT8163B 1.3 GHz Quad-Core processor paired up with 1 GB RAM is responsible for adequate power and performance for the users. A thin and lightweight profile which measures only 209 x 123 x 8.9 mm and weighs 320 g (0.71 lbs) gives tough competition to reputed brands in this regard. Slim, sleek, and lightweight dimensions allow you to hold or carry this device quite easily.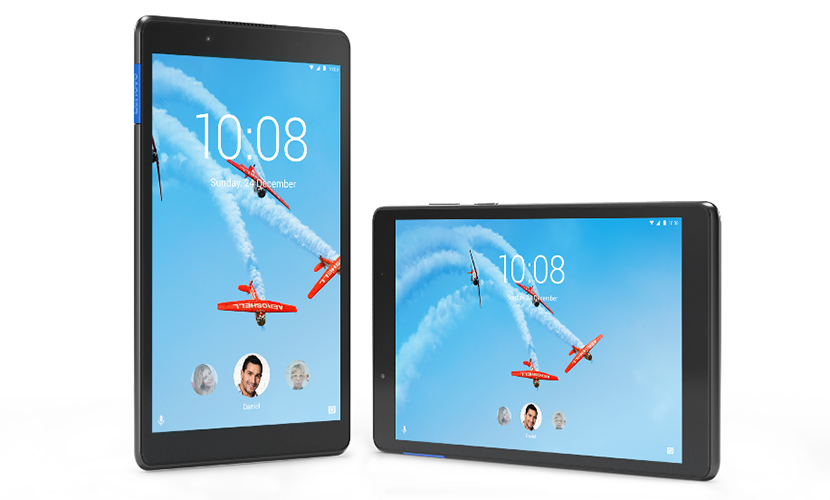 The display compromised of 8-inch full HD IPS display is fascinating to watch. The capacitive 5-point multitouch panel, 1280 x 800 resolution, 55 percent of color gamut, and 320 nits of brightness delivers real-life images with balanced image quality. You can store your important data, files, apps, videos, and games on 16 GB of internal memory and up to 128 GB using Micro SD Card option.
Specs of Lenovo Tab E8

Processor
1.3GHz MediaTek MT8163B
Display
8-inch HD IPS 320nits
RAM
Up to 1GB
Storage
Up to 16GB
Battery
4850 mAh (9-10 hours)
Dual cameras on the front and rear enable you to perform your camera-related tasks. The front camera of 2 MP with fixed-focus technology can be used for clicking selfies or making video calls to your business associates, family members, and friends. The rear camera consists of 5 MP resolution combined with Auto-Focus technology is very useful in capturing your favorite moments, group photos or scanning documents.
The USB 2.0 port can be used for charging the device and making any compatible wired connection to the device whereas 802.11 a/ b/ g/ n WiFi router and Bluetooth 4.2 can be used for connecting wireless devices. This device is incorporated with 4850 mAh battery claims to give almost up to 9-10 hours of backup time quite easily. The standby time is of over 2 weeks which is amazing. This amount of backup is good enough to perform your day-to-day tasks, studying, reading, enjoy social networking, Netflix movies, videos, and normal gaming on the move
Features
Immersive display and excellent audio are excellent features associated on Tab E8. Android 7.1 Nougat edition enables every Android app to explore and perform exponentially. Additional Android features like Google Play Store, Gmail, Maps, and YouTube can be used in different ways. Where Play store explores you to the world of free apps, utilities, and games, Gmail let you read and send email, Maps suggest you path in unexplored locations, and YouTube brings infotainment to your tablet.