Well, with not much happening in the tablet industry, it's like slipping downhill but, Fusion5 F803B 8-inch is certainly not that bad when compared to others.

Fusion5 F803B 8-inch is exclusively infused with the IPS screen technology. It does not end here, it is boosted with the beautiful bright colors which can help you with high-quality images in the natural frame and also be supporting different angles. When compared to others, you will find that HD IPS Display panel quite thinner and also with bezel finish which adds an exceptional touch to this tablet.
With Android 7 Nougat, this tablet has amazing attributes in the form of better sound quality, excellent security features, and astounding communication facilities. Undoubtedly this tablet is powerpack and loaded with rich features which can help you perform your activities without any fuss.
With Fusion5 F803B 8-inch, you will be getting 16GB storage with  1GB ram, which exclusively allows you to download your favorite movies and games without any second thought about it. Yes, 1GB RAM could have been better so that it could make work execution a bit faster. You will be supported with WiFi, Bluetooth 4.0 and HDMI so that you do not find any form of connectivity related problems on the move. You will be able to get in touch with anyone with this workaholic machine. Except for RAM, everything stands out within the budget.
This tablet gets the maximum power to operate with the help of Rockchip 3126 Quad-Core 1.2GHz CPU which exclusively sets an ultra-low voltage platform where you can not only play games with ease but also watch movies without much disturbance. When compared with others, it could have been better, but when compared with budget, it certainly good to go with. With Mali 400 MP2 GPU you can be certain that there will be no hiccups while performing any type of activities right from playing games to watching movies.
Design
Talking about the first impression, I liked it. Fusion5 F803B 8-inch felt perfectly fit in hand and not once did I felt, it's not properly built or having a problem while holding in my hand. Definitely, it's well-constructed and built to be carried while being on the trip. The weight of the tablet is around 580 grams and it has 277.8*170*9.9mm dimensions to back its perfect shape and size. You will find that the tablet's back is more often than not is prone to fingerprints. I don't think it's a big issue to deal with.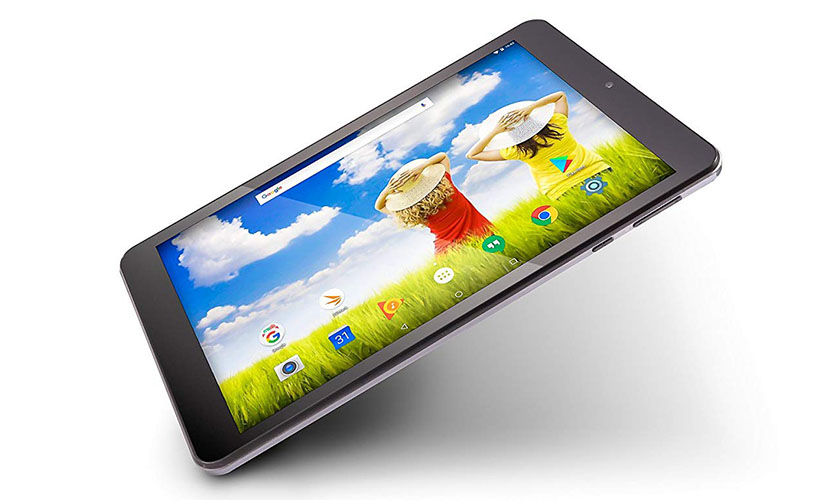 There are a power and volume buttons at the top and they both are perfectly placed and very much responsive. With 5MP rear camera and 2MP front camera, you can certainly capture good photographs. You will also Auto Focus feature to enhance your photo clicking needs. The tablet is built with a mic and two speakers placed at the back.
Display and Storage with Power
Powered by Rockchip 3126 Quad-Core 1.2GHz CPU you will certainly not be disappointed, but yes, not backing out from the point that it could have been better. Supported with 1GB RAM DDR3and 16GB HDD, you will get a lot of space to work in your small desktop. You can exclusively store a number of videos, games, and movies with ease. Yes, the RAM could have been much more enhanced to support the speed of work. The configurations are not that bad, but you might expect a bit more.
You will have a clear, bright screen to play with
170° Brightness
IPS Screen LCD Viewing Angle
1280*800 Pixels
250cd/m2
The screen responds exceptionally well to the touches with Touch Panel Multi-Touch Capacitive IPS.
OS and Softwares
Fusion5 F803B 8-inch comes with Android 7 Nougat Operating system. You will not find working on it challenging, in fact, it's easy to operate and understand. The tablet exclusively comes with Google Chrome, android web browser, and play store with which gives you will have a smooth experience of downloading applications as much as you want for your specific needs.
Networking and Peripherals
The configuration of the wireless features of this tablet is standard with 802.11 B/G, 802.11b/g/n, 802.11B and also includes a Bluetooth 4.0 to help you transfer files on the move. You will also find:
USB 2.0
Micro USB Port
Earphone Jack
TF Card Slot
DC In
HDMI
With the help of the HDMI attribute, you will be getting quality pictures. If you are not satisfied with 16GB memory, then also there is no problem as the TF card slot will assist you to extend your memory up to 128 GB which will help you to store as much as you like to in the form of movies, games, videos and other stuff. In fact, I didn't find any sort of problem while transferring or relocating files from phones memory to external card.
Battery
With the battery power of 3.7V/4000mAh, you will easily able to use your phone for the entire day without putting on recharge again. You can watch movies and videos or play games when on the move, without having to care about the battery drainage as it can exclusively survive more than 8 hours with ease.
Verdict
Well, after a thorough research on Fusion5 F803B 8-inch, I came to a conclusion it's perfectly found tablet available at this range. So, if you get a good deal, you must go for it as it has the attributes to entice you and exclusively keep you amused. From having Rockchip 3126 Quad-Core 1.2GHz CPU processor to having an excellent battery life, you will certainly not be disappointed. Expandable memory is just an icing on the cake for this tablet as it allows to have all your favorite stuff in the tablet with ease. At this range, I rate this phone good, just do not expect it to operate extraordinarily.