Value-centric devices receive one more competitor in the form of S8 8-inch tablet from Dragon Touch. This tablet is committed to delivering superb handling and high-rated viewing experience wrapped in a slim and sleek chassis. Powered by Google Android 5.1 Lollipop edition gives you free access to unlimited apps, games, utilities, and functions. Performance is rest assured by Intel Sofia 3G-R Quad-Core 1.2 GHz processor equally supported by 1 GB RAM. 10 point multi-touch screen combined with 178 degrees of wide viewing ability ensures precise, accurate, and balanced picture quality from any viewing angle.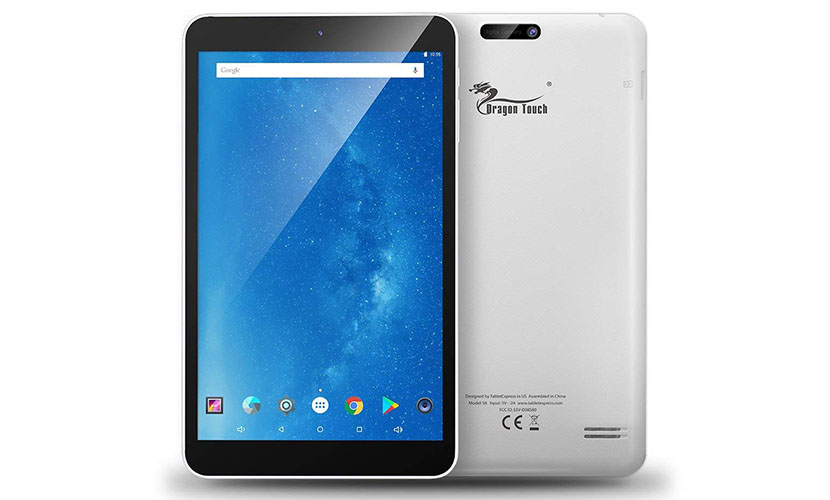 The Dual Camera option enables you to make video conference calls, click photos, or scan documents with good frame rates and clarity. You have not worry about storage as well as this tablet offers you 16 GB of internal memory plus expandable up to 64 GB Micro SD Card option. Micro USB port allows you to charge this device and also give you the option of attaching any compatible device as well. A battery of 3600 mAh is good enough to perform your productivity tasks, enjoy your gaming or entertainment on the move. Superb build quality paired up with all-around capabilities at a very reasonable price makes this tablet a competitive player in its league.
Sleek Design
Dragon touch is a subsidiary of US-based tablet manufacturer TabletExpress. Their main aim and focus remains to produce some of the brilliant devices at very affordable prices and S8 8-inch tablet is one of them.
The base of S8 design consists of matte finish material. The front face of this device is loaded with 8-inch capacitive touchscreen surrounded by two-sided narrow and two-sided thick bezels. The top thick bezel hides front web camera and below bezel consist of some function buttons under it. The build profile of 9.1 x 8.9 x 1.6-inches and weight of 1.17 pounds complete the dynamics of the Dragon Touch S8. The slim and sleek profile makes it really easy to carry this device anywhere with you.
As we often see that the smooth and shiny surface of devices leads to a lot of slip-ups. So to avoid this, the company has incorporated matte plastic on the back, which gives a clean finish but not the slippery one. The rear camera is placed on the top in a rounded rectangle bar. The Dragon Touch logo is embarked on the top of the back just beneath the web camera. Speakers Bars are placed at the bottom as usual.
As far as side profiles are concerned, right-hand side receives power and volume rocker buttons whereas audio jack and Micro USB port are provided on the top. Additional storage option Micro SD Card slot is attached on the left.
Display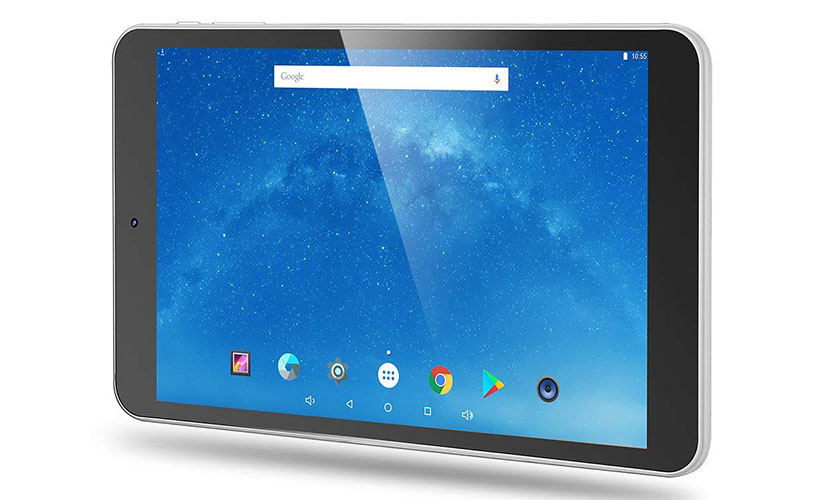 This device provides you adjustable and vivid viewing experience through 8-inch capacitive HD 10 point multi-touch screen. The display comes with the resolution of 1280 x 800 pixels ensuring smooth visuals or graphics while playing videos or gameplay. The 10 point touch screen offers you most instinctive, accurate, and responsive touch experience. The 178 degree wide viewing angle gives you the facility of enjoying movies, videos, or entertainment at any adjustable angles as per your convenience.
Storage and OS
Storage remains to be one of the decisive factors for any computing device. In terms of storage for S8, this device features 16 GB Nand Flash internal memory and Micro SD Card slot which can be expandable up to 64 GB. You can easily store all your documents, files, videos, songs, apps, and games on both of these options as per your convenience and requirement.
Google Android 5.1 Lollipop edition powers up this tablet and give you the platform to install your apps. With Google play store, you have unlimited access to require apps, utilities, favorite games, and functional apps with ease.
Hardware Specifications
Dragon Touch S8 fueled with Intel Sofia 3G-R Quad-Core 1.2 GHz processor coupled with 1 GB RAM. You can perform or accomplish your daily tasks, small business-related activities, and enjoy movies or gaming on this hardware. The 8-inch IPS touch screen with 1280 x 800 pixels resolution brings all visuals or graphics to the screen. Internal 16 GB and Micro SD card used as storage devices for this tablet. This tablet is attached with 3600 mAh battery which claims to keep alive your system up to 8-9 hours uninterruptedly.
Camera and Communications
Dual Camera gives you the benefit of video calls, selfies, and photos. Front web camera of 2 MP makes video calling or Skype calling possible with your family, friends, and business professionals. The rear camera of 2 MP enables you to click photos or scanning documents on the go. Both cameras don't offer high class picture quality but a decent one to accomplish your camera related tasks.
As far as communication is concerned, a USB port is provided for charging and transferring any data from and to in this device. Wireless connections can be managed using 802.11 b/g/n and Bluetooth options. You can also easily pair up with any Bluetooth devices like keyboard and speakers and enjoy the entertainment to the fullest using Bluetooth option.
Conclusion
Dragon Touch S8 comes equipped with slim, sleek profile, superb hardware unit of Quad-Core processor and 1 GB RAM, storage devices of 16 GB and up to 64 GB option, 10-point multi-touch HD IPS screen, dual cameras, 3600 mAh battery and Android 5.1 Lollipop edition operating system making your day-to-day activities much easier and enjoyable.
Apart from that, the price makes this device an affordable one. So if you are looking for a value-driven tablet with all essential features, good build quality, and superb battery life then this device may fulfill all your expectations in your budget.