Costing around $106, AWOW A98 PLUS II is a phablet which is pretty decent and capable. Right out of the box the device has Android 5.1 Lollipop as its operating system. There hasn't been any promises from AWOW regarding any software update, so don't keep your fingers crossed.  It houses a 9.7 inch screen. Almost everything is made of plastic which gives it the added benefit of being light weight.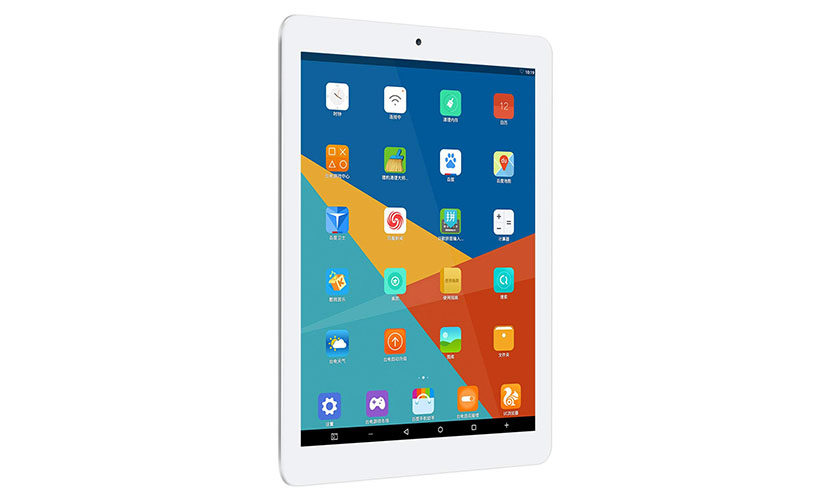 The 9.7 inch display provides very good viewing angles for comfortable viewing and is also quite bright. The device's screen sports a max resolution of 2048×1536 which is great for watching HD videos. It is ergonomic and easy to grip which makes it very portable when coupled with the light weight factor. The manufacturers did find space for a 3.5mm headphone jack, so definitely extra points for that. Coming to the speakers, it is pretty decent as far as phablet speakers go. It has a dual speaker system, both placed in back panel and firing backwards. An SD card slot is also provided for memory expansion. Furthermore the phone uses micro USB slot for charging which also supports OTG function.
Storage, RAM and Battery
A98 Plus II has 64 GB inbuilt storage out of which around 58 GB is available to the us. We can further expand the storage up to 64 GB using an SD card. So there is more than enough space available to the user. The device does come in with some minor bloatware but it can be deleted or moved to the SD card.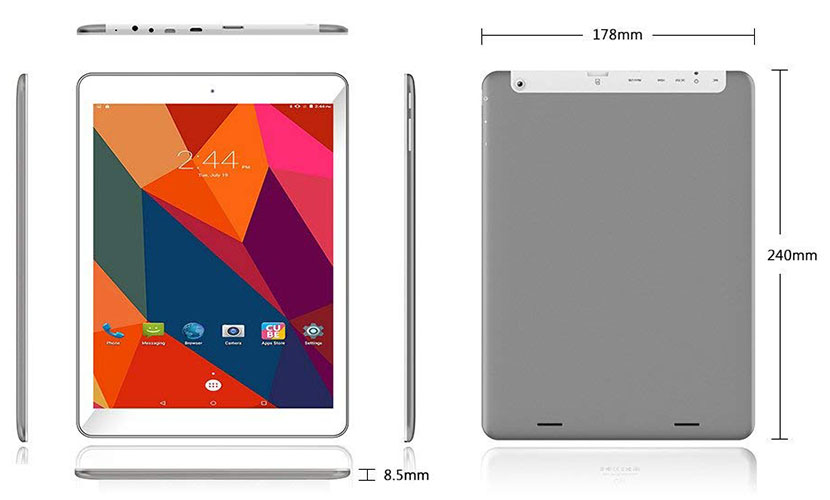 Inbuilt RAM is a 4GB DDR3 SDRAM. This is great because it means that the device is quite powerful. Multitasking would be breeze and the device would be very snappy. The transitions and animation would all be pretty great and butter smooth.
The device houses a 7000 mah battery. It may sound like a lot but for a device with a 9.7 inch screen with 2048×1536, it falls a bit short. We get a battery life of about 5 hours, which is quite underwhelming. The battery optimizations of this device falls short which also results in this bad battery performance.
Processing Power
One of the great advantages this device has is that it has Intel inside. Built on a PC hardware platform, the A98 plus II houses a 1.44 GHz Intel Atom chip with Intel HD Graphics. This is a processor is used in many low end laptops and is highly recommended for enhancing productivity.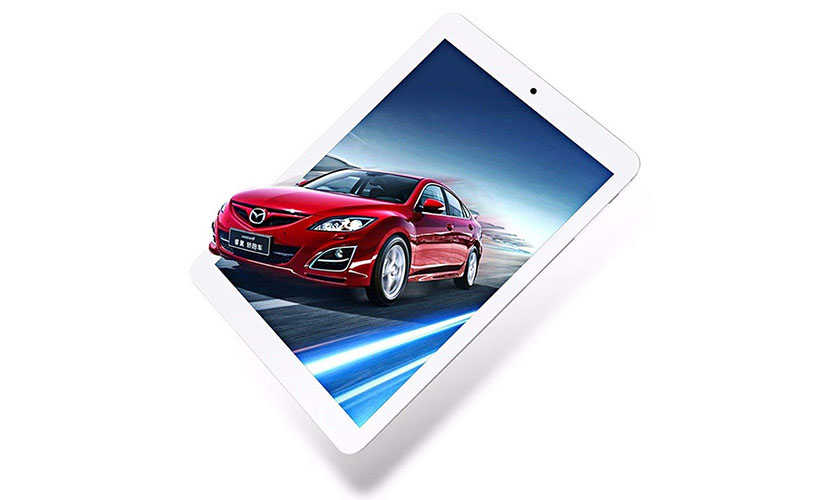 Sticking this processor inside a tablet is a very good move because the processor has so much less hardware to worry about and unlike Windows, Android isn't that heavy on the processor there by enhancing performance. The inbuilt Intel HD graphics card is great too. Gaming is quite possible in this device. But much more importantly, the whole interface will feel better, snappier and much more intuitive. So all in all, this device performs well, can handle multitasking like a breeze all the while looking pretty neat without much lag.
Connectivity
With no cellular connectivity, A98 plus II doesn't seem like a device you could carry around outside. But nowadays we get Wi-Fi almost everywhere plus more people use Wi-Fi as compared to cellular data, so this isn't a big issue. The inbuilt Wi-Fi system is pretty neat and has good connectivity, it also provides some high speed internet browsing action, which is great. Wi-Fi Display is also supported, which means the device could mirror its screen with a Smart TV or any such device. It also uses Bluetooth 4.0 technology for seamless wireless connections with headphones, speakers or watches.
Camera
The cameras are pretty abysmal. There is no other way to put it. The pictures are blurry and noisy. The rear 2 MP camera has trouble understanding colors even in natural lighting and pictures are blurry to the point were its not even recognizable. It is also not usable in low light setting. The front 2 MP camera is equally bad, if not worse. The photos taken look more like paintings rather than selfies. There is no in built flash for the camera so taking in dark areas is a no-go. AWOW does advertise the cameras by saying that they are good for video calling. This kind of makes sense, it is okay for making video calls. The person could understand it is you. It gets the job done, video call wise. If you want to take quick pictures of notes or something that's written on paper, this could come in handy, if the paper is kept in a well-lit place. So, in the end the camera performance is pretty disappointing but for a tablet at this price it is kind of expected. You won't get any Instagram worthy pictures from this tablet, that's for sure.
Pros
A 9.7 inch screen with 2048×1536 which gives an HD experience in your pocket
Very lightweight and portable device
4 GB RAM, which makes multitasking a breeze
64 GB internal memory with additional expansion of 64GB, plenty of space available
Intel Atom chip with built in Graphics enhances the performance
Cons
Lackluster battery performance
Very bad quality pictures produced from both the cameras
Verdict
The A98 Plus II by AWOW is quite the device. It does have many shortcomings like its battery and camera. But these shortcomings are well overcome by this device's powerful RAM and performance and HD display. So what would you need this device for? Priced at $106, this tablet is cheap, so this could be your stay at home tablet which you could use for streaming some Netflix. Being very portable you could take it up to you bed and stream videos and watch in the comforts of your bed or with 64+64 GB space you could store loads of movie in it and watch it later. With a resolution such as 2048×1536 you wouldn't have to comprise on quality while streaming. So is this tablet worth the money? It sure is.