Aoson R103 10-inch tablet holds a very neatly designed profile, flowing edges, responsive hardware unit, and tons of Android advantages enables you to enjoy your studying, business tasks, or entertainment to the fullest. Super sleek and slim design gives you the benefit of carrying this device anywhere with you without any issues. The pre-installed version of Android Nougat 7.0 operating system makes your lot of tasks easier by providing access to unlimited apps provided in the Google Play store. Enjoy watching HD movies, videos, clips, 3D games or net surfing at a brisk speed, vibrant pictures or graphics, and lag-free processing.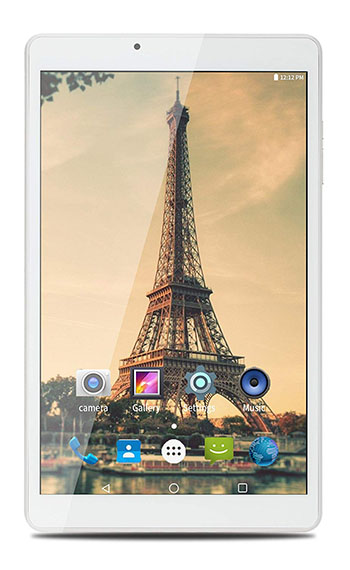 The MTK 8163 Quad Core processor and 2 GB RAM run all your apps, games, videos with superb speed and smooth functionalities. The display of 10.1-inch touchscreen IPS panel ensures vivid images and balanced picture quality so that you can enjoy reading, gaming, conference calls, and videos with high-quality picture and sound. Wireless internet connectivity allows you to connect to the internet from anywhere and take full leverage of GPS like functionality. The whole day battery life gives you the benefit of not taking charger always with you and use this device uninterruptedly on the move. The storage of 32 GB inbuilt storage and expandable Micro SD card up to 32 GB is more than enough to store your documents, important files, videos, comic books, ebooks, and songs on this tablet. A good compact package to fit in your budget and delivers performance above your expectation.
Visual Appeal
As tablets have amassed popularity among the youths, professionals, college or school going students a lot of brands jumped into the fray to compete with each other and provides the device matches to the expectation of the users. Aoson is one of the manufacturers which introduced various tablets with different configurations and design recently unveiled R103, with excellent eye-capturing design and durable hardware to sustain in this competing segment.
On the design front, the design of this tablet is what inspires you to own this device. The front face is covered with 10.1-inch IPS capacitive screen with two-sided thick bezels and two-sided narrow bezels. The upper and lower thick bezels are understandable as it holds a web camera and speakers under the hood. The other two sides receive good looking narrow bezels. The dimensions of 10.1 x 5.98 x 0.39-inches and a weight of 1.99 pounds puts this device in the extremely slim, sleek, and lightweight category.
The all-metal back case protects your tablet from any fall over and tough use. The rear end is loaded with smooth edges on all sides with a clean and neat finish to the borders. Aoson logo is placed at the top. Whole back is divided into three different parts. Small bars on upper and lower have been highlighted by little bit darker color in comparison to middle section color. The upper bar is loaded with rear camera, whereas lower end is covered with speakers. This model arrives in three different variants whole black, white front and golden rear, black front and rear white options. All three variants are a bit different in configurations and style, but every device assures the best performance as required.
Hardware and Performance
Aoson R103 10-inch tablet comes loaded with adequate hardware unit so that you can enjoy the performance. This device is loaded with MTK8163 Quad Core CPU and 2 GB RAM ensuring swift processing, smooth functioning, and lag-free entertainment. The 10.1-inch capacitive touch screen panel displays balanced image quality. The resolution of 800 x 1280 pixels makes it easy to play your favorite games, reading ebooks, comic books, or watching videos extremely fun filled. This display can give you the crisp pictures even at 178 degrees of viewing angle. Moreover, this screen comes with dustproof and scratch resistant screen protector.

Storage is important for any type of device. This device comes equipped with inbuilt 32 GB flash storage, which usually stores all your documents, videos, ebooks, files, data, apps, utilities, or games. Latest Android 7.0 Nougat also don't take too much space so you have enough free space to install whatever you like without compromising on anything. In addition to this, there is a Micro SD Card option is also provided which can be used as an additional storage option and gives you the benefit of adding up to 32 GB more with the device.
Dual camera option on the front and at the back allows you to complete various camera related tasks with ease. A front camera of 2 MP can be used for making Skype calls to your friends, family, and business associates. The Rear camera of 5 MP is handy for capturing superb clicks or scanning any documents on the move. Portable device efficiency can be tested when you are on the road and battery plays an important role in this. This device is loaded with 6000 mAh battery which claims to back up your system whole day up to 8-10 hours. Longer backup means you can enjoy your tasks more and entertainment to the fullest.
Connectivity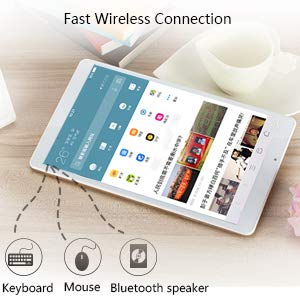 Making connections to other devices is easy through WiFi connectivity option provided in this tablet. The micro USB port is attached for charging this device as well as for making connections to any related device. Wireless connections can be managed using 802.11 bgn and Bluetooth option. Built-in GPS using 2.4 GHz band wireless connectivity will make your travel easy.
Bottom Line
Aoson R103 10-inch loaded with an excellent frame, slim, sleek, and lightweight profile, splendid hardware unit, 10.1-inch IPS vivid touchscreen display, wireless connectivity, dual storage option of internal and Micro SD card, a combo of 2 MP front and 5 MP rear camera, and massive battery life. Latest Android 7.0 Nougat adds more spice or flavor for the apps, games, or videos to work better and efficiently. Above all, this device comes at very reasonable pricing.